STOCKHOLM INTERNATIONAL
PEACE RESEARCH INSTITUTE
SIPRI Update: June 2020
The independent resource on global peace and security
---
NEWS
SIPRI launches two new reports

SIPRI is pleased to issue two new reports within its Armament and Disarmament research area. The first report, 'Limits on Autonomy in Weapon Systems: Identifying Practical Elements of Human Control', was produced by SIPRI in cooperation with the International Committee of the Red Cross (ICRC). It identifies where controls on autonomous weapon systems (AWS) must be placed. The authors highlight the need for human control over life-or-death decisions in warfare and offer practical guidance and concrete control measures for an international policy response. The second report, 'Artificial Intelligence, Strategic Stability and Nuclear Risk', warns that nuclear-armed states' competition in military artificial intelligence (AI) and premature adoption of AI in nuclear weapons and related capabilities could have a negative impact on strategic stability and increase the likelihood of nuclear weapon use. The report proposes AI-specific nuclear risk reduction measures.

 

Read more about 'Limits on Autonomy in Weapon Systems: Identifying Practical Elements of Human Control' | Read more about 'Artificial Intelligence, Strategic Stability and Nuclear Risk'

 
Policy reactions and ways forward in Central Mali—new SIPRI film

This month, SIPRI launched a new Reflection film capturing the reactions of key international and Malian actors to the research findings of the SIPRI Insights on Peace and Security paper 'The Challenges of Governance, Development and Security in the Central Regions of Mali'. The film is accompanied by a series of SIPRI Spotlight interviews presenting the distinct voices of the in-country policymakers and practitioners who feature in the film.

 

Read more | Watch the film | Read the SIPRI Insights on Peace and Security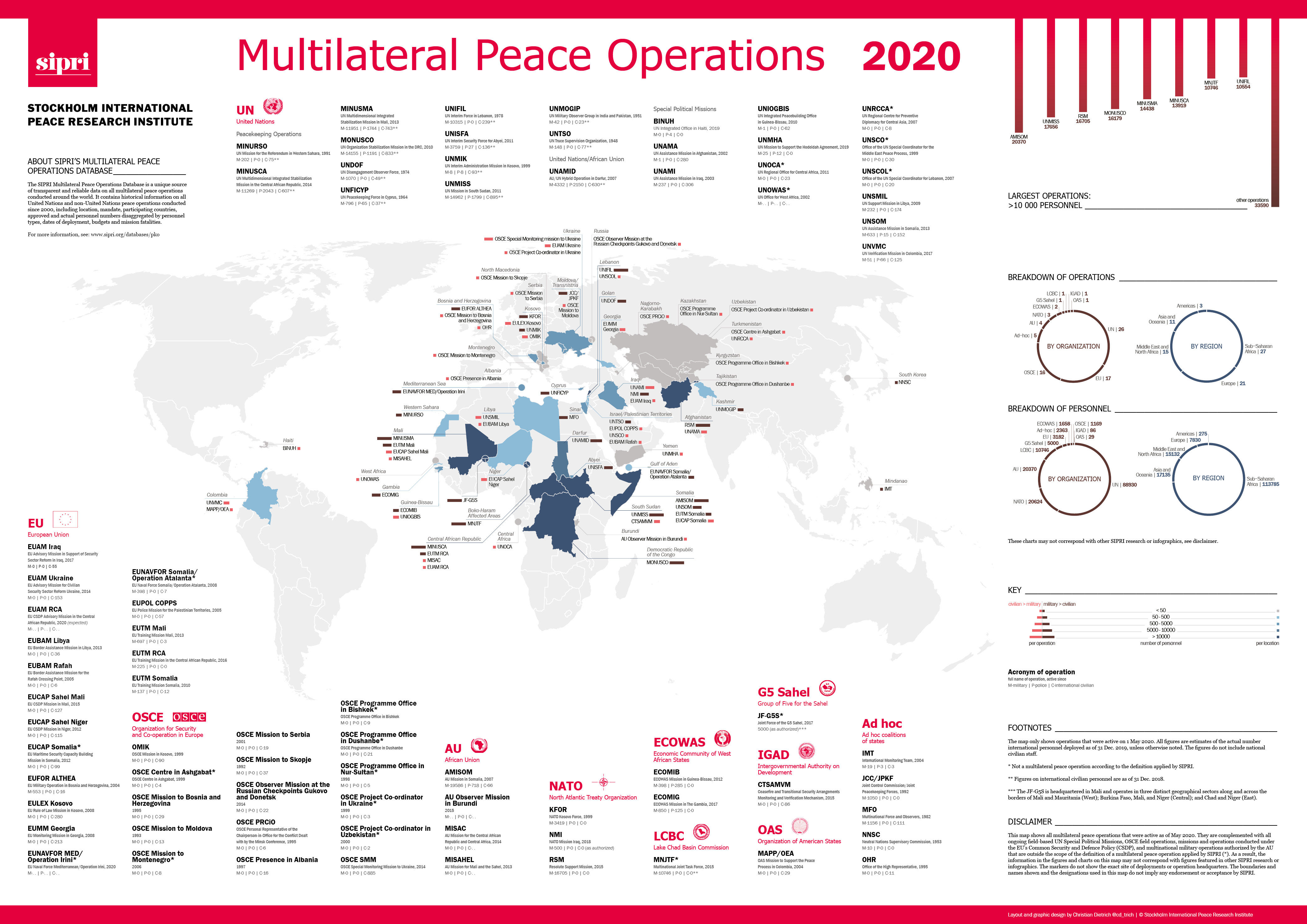 SIPRI Map of Multilateral Peace Operations, 2020—out now

SIPRI is pleased to release a new map showing all multilateral peace operations active as of May 2020. The data is taken from SIPRI's Multilateral Peace Operations Database, which contains historical information on United Nations and non-UN peace operations conducted since 1990, including location, mandate, participating countries, approved and actual personnel numbers disaggregated by personnel types, dates of deployment, budgets and mission fatalities.

 

Read more | Download the map | Read the SIPRI Fact Sheet

 
SIPRI joins Lancet–SIGHT Commission meeting on effects of COVID-19

On 29–30 June, Sigrún Rawet, SIPRI's Deputy Director, will join a virtual Lancet–Swedish Institute for Global Health Transformation (SIGHT) Commission meeting focusing on the impact of coronavirus disease 2019 (COVID-19) on the Commission's work. To inform the work of the Commission, SIPRI is investigating the link between inclusive, gender-sensitive health services and peacebuilding in fragile and conflict-affected contexts by conducting desk-based research on selected case studies.

 

 
Mistra Geopolitics receives funding for second phase of research

The Mistra Geopolitics research programme, of which SIPRI is a research partner, has been awarded 60 million Swedish kronor for its second phase. Over a four-year period, Mistra Geopolitics will conduct in-depth analysis on geopolitics, sustainability trends and the consequences of the COVID-19 pandemic.

 

Read more | Read the press release

 
---
COMMENTARY
The impact of COVID-19 on critical global food supply chains and food security
The full impact of the COVID-19 pandemic remains to be seen. However, it is clear that the most vulnerable in society are also most at risk from the economic and social disruption triggered by the pandemic. This SIPRI Topical Backgrounder focuses on the effects of the pandemic on conflict situations and critical supply chains and offers reflections on the politics of moving forward.
Read the SIPRI Topical Backgrounder
A cautionary tale of military expenditure transparency during the great lockdown
The COVID-19 pandemic has had and will continue to have far-reaching consequences. Not only has it caused unimaginable human suffering worldwide, but it has also forced governments across the globe to implement protective measures that have resulted in an economic fallout far worse than the 2008–2009 financial crisis and unprecedented since the Great Depression of 1929. This crisis will have an important effect on the interpretation of the 2020 military expenditure data and could have an unexpected impact on transparency in this area, as this WritePeace blog explains.
Achieving peace and development in Central Mali: Looking back on one year of SIPRI's work
Since the signing of the inter-Malian peace agreement in May–June 2015, the situation in Mali has worsened. The deterioration of local security requires rapid and comprehensive responses. Specifically, the lack of solid evidence-based and up-to-date knowledge on the Malian regions of Mopti and Ségou represents a major obstacle. To address this, SIPRI and its partner, Point Sud, are implementing the 'Central Mali Project for Security and Development'. This Topical Backgrounder summarizes the first year of results and activities from this project. It presents the project's main research findings and concludes with four evidence-based recommendations that could pave the way to sustainable peace in Mali.
Read the SIPRI Topical Backgrounder
Using official development assistance to strengthen small arms and light weapons controls: Opportunities and risks
In recent years, official development assistance (ODA) has become an important source of funding for small arms and light weapons (SALW) control assistance. Using ODA spending for this purpose increases the amount of funding available for the work and reflects its importance for economic development, as recognized in the 2030 Agenda for Sustainable Development and the UN Disarmament Agenda. However, it also generates risks if ODA spending is diverted away from other key priorities. This WritePeace blog highlights the challenges of mapping ODA spending to support SALW control assistance, outlines a way of establishing a more accurate picture, and summarizes the benefits this data could generate.
The European Green Deal: A chance to promote a people-centred take on climate security
Announced in December 2019, the European Green Deal (EGD) sets out Europe's new growth strategy with the aim of transforming the now 27-country bloc from a high- to a low-carbon economy in order to reach zero net emissions by the year 2050. This SIPRI Topical Backgrounder argues that the EGD—while more ambitious than efforts by previous commissions—fails to include important developments in the climate security discourse of recent years.
Read the SIPRI Topical Backgrounder
Mali: Fragmented territorial sovereignty and contested political space
On 5 June 2020, thousands of demonstrators in Bamako, the capital city of Mali, carried placards and called for the resignation of President Ibrahim Boubacar Keïta. Opponents of the president's regime question its capacity to deal with the multiple challenges it faces and, more generally, the ability of the Malian state to maintain its sovereignty. This SIPRI Topical Backgrounder takes stock of recent developments in Mali as dissent against the regime grows due to alleged corruption and the inability of the Malian state to provide security.
Read the SIPRI Topical Backgrounder
The resurgence of the Islamic State in Iraq: Political and military responses
The Islamic State (IS) is back, or so the headlines say. The key thing is that IS never left. While IS may have gone underground, reorganized, and slowly rebuilt, it has continued to carry out attacks. And what is equally, if not more, concerning is that IS is growing in strength. If anything is to be learnt from the history of the organization, it is that it is vital to address this now before it grows too strong. However, military solutions alone are not enough. A number of political issues in Iraq need to be addressed in parallel in order to starve IS of space to operate. This SIPRI Essay puts forward the wider political issues connected to the resurgence of IS, as well as the key priorities for the new Iraqi Government.
Scope for improvement: Linking the Women, Peace and Security Agenda to climate change
Climate change can increase the risks of violent conflict, create risks to human security, and challenge conflict recovery and peacebuilding in different contexts. In many parts of the world women and girls are significantly affected by the respective and compounding effects of climate change and conflict. In the light of this, this SIPRI Essay discusses key findings from the Insights on Peace and Security paper 'Climate Change in Women, Peace and Security Agenda National Action Plans', which examines how the UN Women, Peace and Security (WPS) national action plans (NAPs) frame climate change, and how they could promote women's participation in addressing related risks.
---
UPCOMING EVENTS
18 November 2020
2020 Stockholm Security Conference
On 18 November 2020, SIPRI will host the fifth annual Stockholm Security Conference. The theme of this year's conference is 'International Cooperation: Navigating the Way Ahead'. As a result of the success of the first Virtual 2020 Stockholm Forum on Peace and Development, the Stockholm Security Conference will be convened online.
---
STAFF NEWS
Current staff news:
SIPRI welcomes the appointment of Joakim Vaverka as its new Deputy Director. He will assume his post on 1 September 2020.
---
PUBLICATIONS
Limits on Autonomy in Weapon Systems: Identifying Practical Elements of Human Control
There is wide recognition that the need to preserve human control over weapon systems and the use of force in armed conflict will require limits on AWS. This report from SIPRI and the ICRC offers in-depth analysis of the type and degree of human control that is required to mitigate the risks posed by AWS. It proposes three types of control measures to reduce or compensate for the unpredictability introduced by AWS and associated risks for civilians: controls on the weapon's parameters such as types of target, controls on the environment of use and controls in the form of human supervision.
Climate Change in Women, Peace and Security National Action Plans
This SIPRI Insights on Peace and Security paper explores how the  WPS NAPs of 80 states frame and respond to climate change and security. It finds that they do so in different ways. Seventeen states include a direct mention of climate change in at least one of their plans. Of these, three states include comparatively higher numbers of specific goals and activities referencing climate change in different plans.
Read the SIPRI Insights on Peace and Security
Artificial Intelligence, Strategic Stability and Nuclear Risk
This report aims to offer the reader a concrete understanding of how the adop­tion of AI by nuclear-armed states could have an impact on strategic stability and nuclear risk and how related challenges could be addressed at the policy level. The analysis builds on extensive data collection on the AI-related technical and strategic developments of nuclear-armed states. It also builds on the authors' conclusions from a series of regional workshops that SIPRI organized in Sweden (on Euro-Atlantic dynamics), China (on East Asian dynamics) and Sri Lanka (on South Asian dynamics), as well as a transregional workshop in New York.
SIPRI Map of Multilateral Peace Operations, 2020
This map shows all multilateral peace operations that were active as of May 2020. It also lists all ongoing field-based UN Special Political Missions, Organization for Security and Co-operation in Europe field operations, missions and operations conducted under the European Union's Common Security and Defence Policy, and multinational military operations authorized by the African Union that are outside the scope of the definition of a multilateral peace operation applied by SIPRI.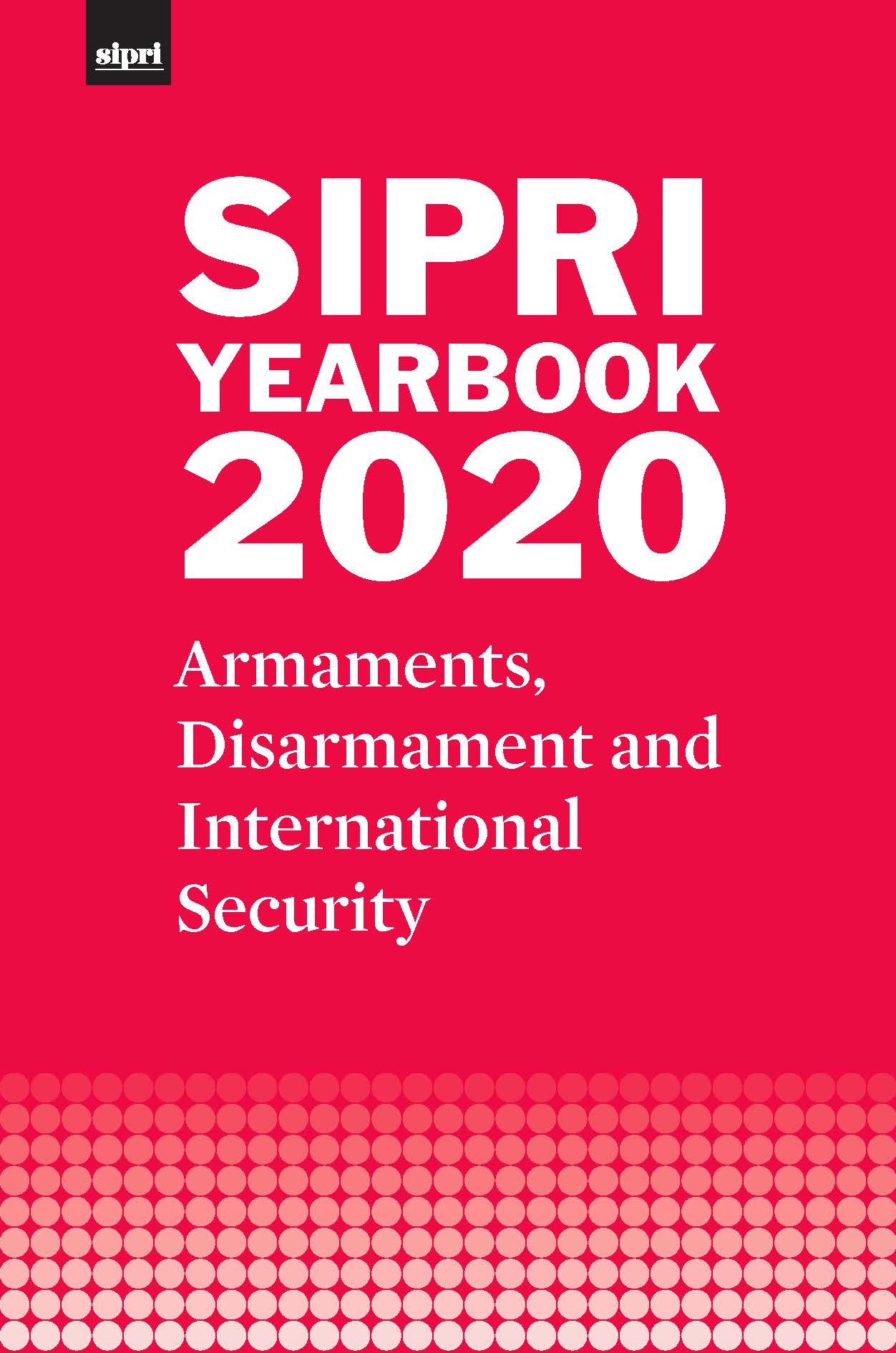 SIPRI Yearbook 2020
SIPRI Yearbook 2020 presents a combination of original data in areas such as world military expenditure, international arms transfers, arms production, nuclear forces, armed conflicts and multilateral peace operations with state-of-the-art analysis of important aspects of arms control, peace and international security. It covers developments during 2019, including:
the state of nuclear arms control;
transparency in military spending;
regional overviews of armed conflicts; and
the investigation of allegations of chemical weapon use in Syria.
Browse the contents page | Read the summary (PDF) | Order SIPRI Yearbook 2020