STOCKHOLM INTERNATIONAL
PEACE RESEARCH INSTITUTE
SIPRI Update: April 2020
The independent resource on global peace and security
---
NEWS
New SIPRI data—global military expenditure sees largest annual increase in a decade
Total global military expenditure rose to $1917 billion in 2019, according to new SIPRI data. The total for 2019 represents an increase of 3.6 per cent from 2018 and the largest annual growth in spending since 2010. The five largest spenders in 2019, which accounted for 62 per cent of expenditure, were the United States, China, India, Russia and Saudi Arabia. The Stimson Center and SIPRI held a webinar on emerging trends from the new data.
 

Read more | Read the SIPRI Fact Sheet | Access the database | Watch the webinar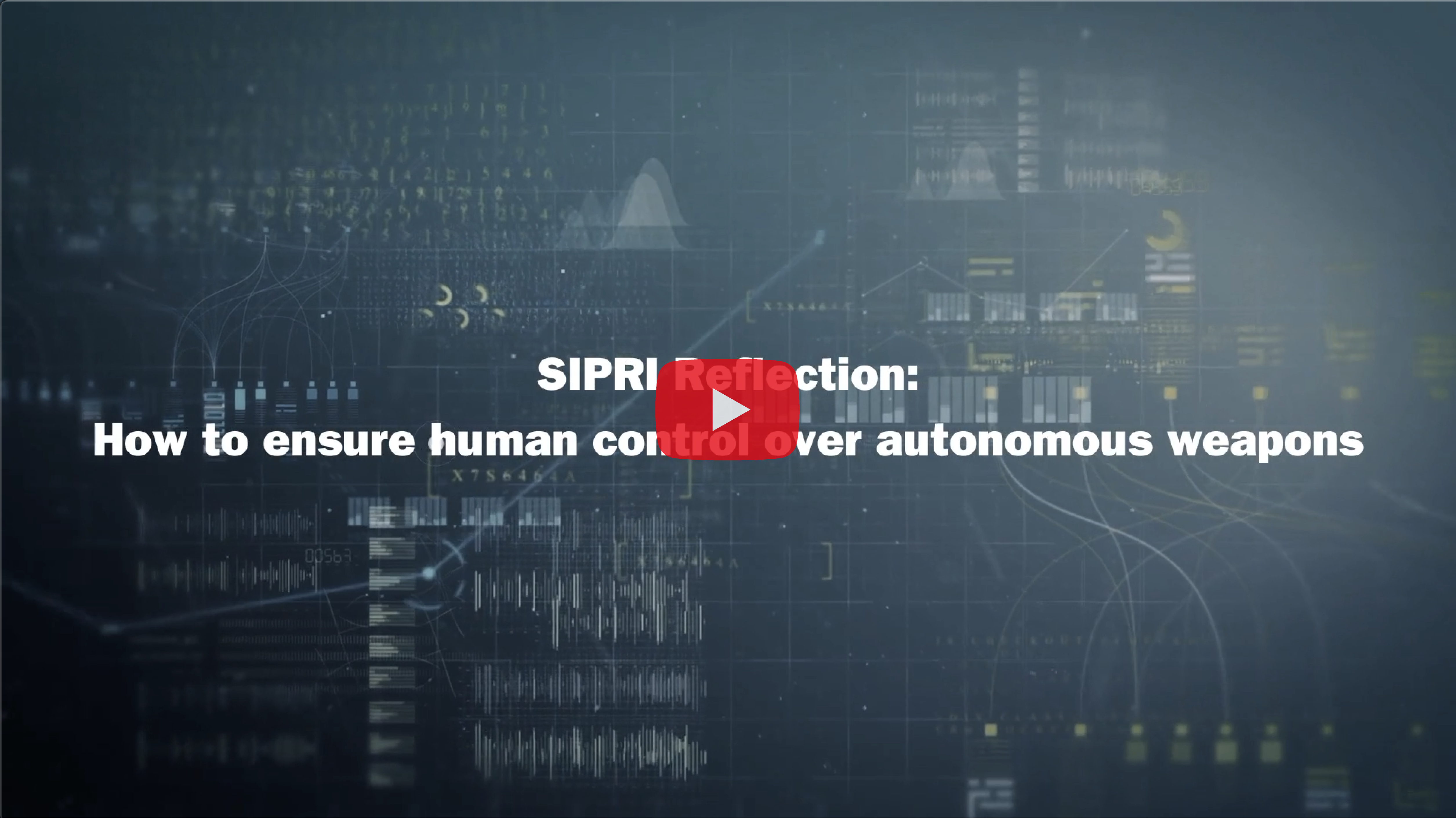 New SIPRI Reflection Film on limits on autonomy in weapons systems

SIPRI is pleased to announce the launch of a new SIPRI Reflection Film that takes stock of the challenges posed by autonomy in weapons systems and explores how these challenges might be addressed by states. The film was released ahead of the Berlin Forum for Supporting the 2020 Group of Governmental Experts on Lethal Autonomous Weapons Systems that took place on 1–2 April.

 

Read more | Watch the SIPRI Reflection Film

 
New SIPRI study: Local perspectives in Mali's central regions

Since 2015, Mali's central regions of Mopti and Ségou have faced challenges to their governance, development and security. SIPRI has responded to this situation by releasing a new SIPRI Insights on Peace and Security Paper that combines both quantitative and qualitative data to provide an evidence-based analysis of local perspectives in Mopti and Ségou.

 

Read more | Read the SIPRI Insights on Peace and Security Paper | Watch the SIPRI playlist on Central Mali

 
---
COMMENTARY
Russia's military spending: Frequently asked questions
In recent years, Russia has embarked on a military modernization programme funded by rapidly increasing military spending and has pursued a more assertive foreign policy. This has attracted attention to the level of its military spending. Yet according to SIPRI's data, Russia spends less than might be inferred from the scale of its military activities and the size of its armed forces. This Topical Backgrounder explains the SIPRI figures for Russian military expenditure and how best to interpret them.
The high cost of insecurity: The case of Hodh el Gharbi in Mauritania
From January until November 2019, SIPRI's Sahel and West Africa Programme and its research partners in the Sahel region have documented the spillover effects of the 2012 Malian crisis. This blog post provides an overview of the impact that the Malian crisis has had on the Mauritanian region of Hodh el Gharbi and the ongoing effects for the transhumance corridor in the Malian regions of Kayes, Koulikoro and Ségou.
From the Malian crisis to the Sahel breakdown: An overview of SIPRI's work in the G5 Sahel region
Although the 2012 Malian crisis has been extensively studied since its outbreak, its regional consequences are poorly documented. To fill this gap, SIPRI's Sahel and West Africa Programme and its partners in the G5 Sahel countries—Burkina Faso, Chad, Mali, Mauritania and Niger—conducted research from August until November 2019. This blog provides an overview of the findings of this qualitative research and serves as an introduction to a series of forthcoming SIPRI publications.
Renewable energy as an opportunity for peace?
Growth in global energy demand due to population and economic growth has caused energy-sector emissions to rise and surpass historic records. This blog argues that renewable energy is a key human security tool that can meet demands while still responding to the wider challenge of global warming. However, to date, this potential remains largely underutilized by practitioners in the development and security sectors.
Why it is important to register violent deaths
Led by a consortium of prominent data providers and experts and convened by SIPRI and the Brookings Institution, the Global Registry of Violent Deaths (GReVD) recently launched its website, which will serve as a portal to a single catalogue of every violent death coded by time and location. This blog post emphasizes the importance of counting violent deaths and outlines some of the main challenges to doing so.
Read the WritePeace blog | Access the GReVD website
---
UPCOMING EVENTS
11–22 May 2020
2020 Stockholm Forum on Peace and Development
Please register now for the 2020 Virtual Stockholm Forum on Peace and Development, co-hosted by the Swedish Ministry for Foreign Affairs and SIPRI. The Stockholm Forum is convened online from 11–22 May 2020 and will be held on the theme, 'Sustaining Peace in the Time of COVID-19'.
Register and read more
18 November 2020
2020 Stockholm Security Conference
On 18 November 2020, SIPRI will host the fifth annual Stockholm Security Conference at Norra Latin, Stockholm, Sweden. The theme of this year's conference is 'International Cooperation: Navigating the Way Ahead'. The arrangement is subject to COVID-19 developments at that time, and if need be the conference will be moved online.
---
RECENT EVENTS
28 April 2020
Trends in Global Arms Transfers and Military Spending
The Stimson Center and SIPRI held a discussion on recent trends in global arms transfers and military spending. Dr Nan Tian, Researcher, and Siemon T. Wezeman, Senior Researcher, both from SIPRI's Arms and Military Expenditure Programme, highlighted SIPRI's latest global trends and forecast future dynamics arising from COVID-19.
Read more | Watch the livestream
22 April 2020
United Nations Security Council Arria-Formula Meeting on Climate Change and Security Risks
Dan Smith, SIPRI Director, gave an expert briefing to the UN Security Council Arria-Formula Meeting on Climate Change and Security Risks. The meeting was hosted by the Permanent Mission of France to the UN and its partners. It aimed to better assess climate-related security risks and discuss what the UN can do to prevent climate-related conflicts.
Read more | Watch the livestream
---
STAFF NEWS
---
PUBLICATIONS
Trends in World Military Expenditure, 2019
Global military expenditure is estimated to have been $1917 billion in 2019, the highest level since 1988. The total was 3.6 per cent higher in real terms than in 2018 and 7.2 per cent higher than in 2010. World military spending rose in each of the five years from 2015, having decreased steadily from 2011 until 2014 following the global financial and economic crisis.
The Impact of Artificial Intelligence on Strategic Stability and Nuclear Risk, Volume III, South Asian Perspectives
This edited volume is the third in a series of three. The series forms part of a SIPRI project that explores regional perspectives and trends related to the impact that recent advances in artificial intelligence could have on nuclear weapons and doctrines, as well as on strategic stability and nuclear risk. This volume assembles the perspectives of eight experts on South Asia on why and how machine learning and autonomy may become the focus of an arms race among nuclear-armed states.
Ethiopia's Transition: Implications for the Horn of Africa and Red Sea Region
The intersection of two significant trends are affecting the regional dynamics of the Horn of Africa: the political transition underway in Ethiopia since 2018 and evolving Red Sea and Gulf security dynamics. Elucidating how states in the Horn of Africa are affected by and responding to external influences largely hinges on understanding the Ethiopian transition. The implications for the future of regional integration in the Horn of Africa must also be considered.
Read the SIPRI Insights on Peace and Security Paper
The Arms Control–Regional Security Nexus in the Middle East
The erosion of the 2015 Iran nuclear agreement poses a risk for both Middle East regional security and the global nuclear non-proliferation regime. At the same time, it highlights the need to build a more sustainable regional foundation for conflict resolution and arms control in the Middle East. This EU Non-Proliferation and Disarmament Paper argues that the arms control–regional security nexus should be better reflected in European policy.
Read the EU Non-Proliferation and Disarmament Paper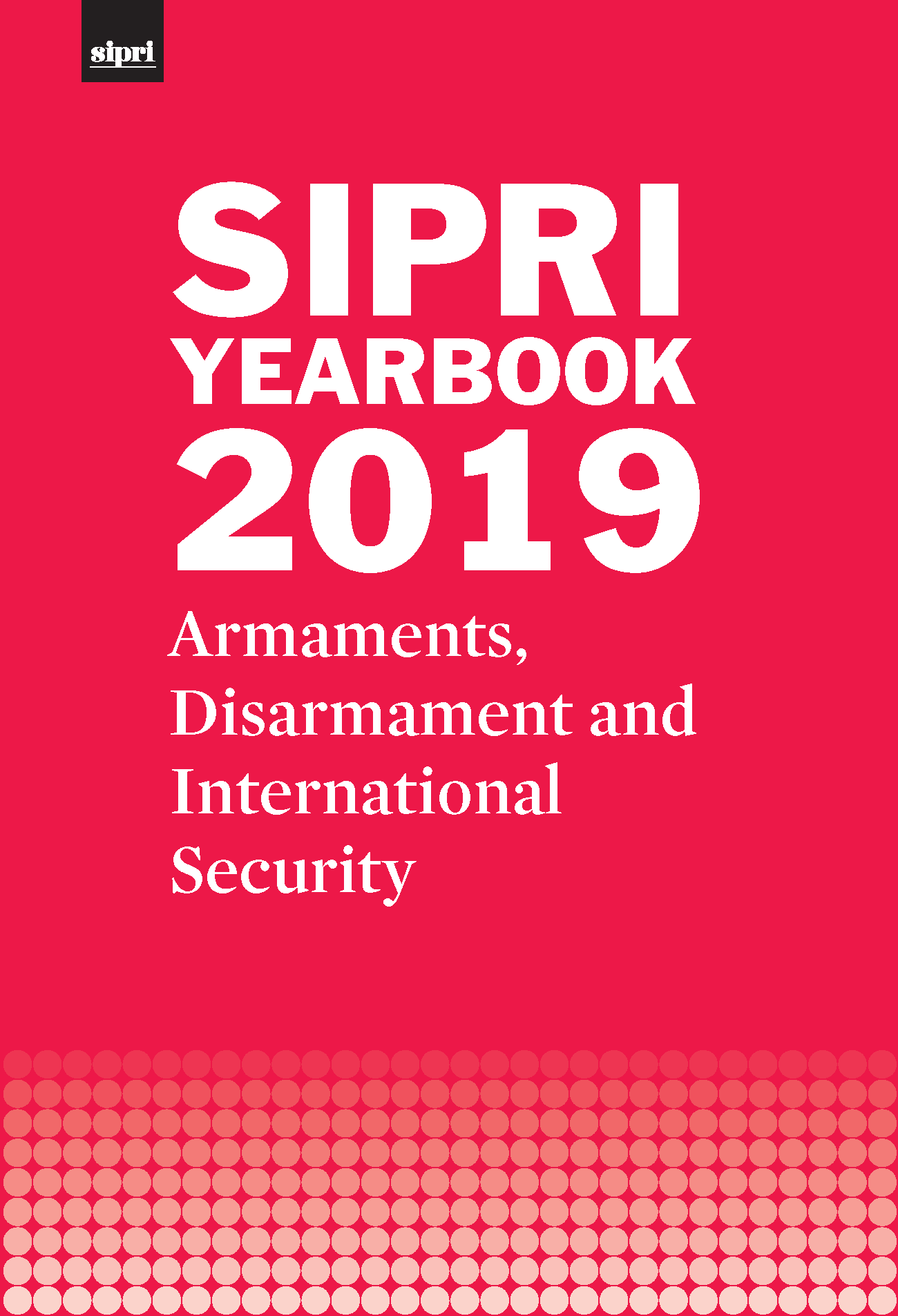 SIPRI Yearbook 2019
The 50th edition of the SIPRI Yearbook is a compendium of data and analysis in the areas of security and conflicts; military spending and armaments; and non-proliferation, arms control and disarmament. It covers developments during 2018, including:
the state of nuclear arms control;
transparency in military spending;
UN peacekeeping reform; and
allegations of chemical weapon use in Syria and the United Kingdom.
Browse the contents page | Read the summary (PDF) | Order SIPRI Yearbook 2019