STOCKHOLM INTERNATIONAL
PEACE RESEARCH INSTITUTE
SIPRI Update: January 2019
The independent resource on global peace and security
---
NEWS
SIPRI and partners launch Arabic translation of SIPRI Yearbook 2018 in Beirut
SIPRI in partnership with the Centre for Arab Unity Studies and the Swedish Institute Alexandria, launched the Arabic translation of SIPRI Yearbook 2018 as part of a two-day seminar on 'Climate Risk, Armaments and Stability in the Arab Region' in Beirut, Lebanon from 17–18 January.
 

Read more | Order the Arabic translation of SIPRI Yearbook 2018

 
New report on Central Asia by the Expert Working Group on Climate-related Security Risks
The Expert Working Group on Climate-related Security Risks, hosted by SIPRI, launched a new report on Central Asia. The report, entitled 'Central Asia: Climate-related security risk assessment', is the final in the series produced by the Expert Working Group during 2018. Previous reports in the series have focused on the Lake Chad region, Iraq and Somalia.
 

Read more | Read the report | Read more about the Expert Working Group

 
Founding SIPRI Director Robert Neild—in memoriam
SIPRI mourns the passing of the Institute's founding Director Robert Neild (United Kingdom), who died on 18 December 2018 at the age of 94. To this day Robert Neild's creation—the SIPRI Yearbook—is acknowledged worldwide as an authoritative source on issues of peace and security.
SIPRI signs cooperation agreement with Kazakh think tank
Last month, SIPRI signed a Memorandum of Understanding with the Institute of World Economics and Politics (IWEP) from Kazakhstan. The agreement will enable greater cooperation on questions of international peace, security and development. Particular areas where SIPRI and IWEP will benefit from shared expertise include arms control, nuclear non-proliferation and China's Belt and Road Initiative.
---
COMMENTARY Peace Points: 2019 looking forward
Dan Smith shares his thoughts on developments in international peace and security he would like to see take place in 2019.
Watch the Peace Ponts episode [3m21s]
---
UPCOMING EVENTS
1 February 2019
Water as a symbol: The Israel–Palestine water conflict
This event features Professor Itay Fishhendler, Head of the Environmental and Planning Program at the Hebrew University of Jerusalem. The event aims to conceptualise regional water conflicts, review the fundamentals of water disagreements between Israel and Palestine and to identify ways forward. Participation is by invitation only. 
---
RECENT EVENTS
14 January 2019
Reassessing CBRN threats and their implications for East Asia
This workshop convened Chinese, European, Japanese, South Korean, and US experts from technical, legal and academic communities to re-evaluate the threats posed by weapons of mass destruction and hazardous materials in a changing global environment and, in particular, the implications for East Asia.
---
JOB VACANCIES
One current opening
SIPRI is currently recruiting for the following position:
Management Assistant (Closing date: 3 February)
---
PUBLICATIONS
The lack of disarmament in the Middle East: A thorn in the side of the NPT
This paper assesses the prospects for the 2020 NPT Review Conference and presents two alternative approaches for taking the weapons of mass destruction (WMD)-free zone process forward—a WMD-free zone process without Israel or the inclusion of such a process as part of a broader regional security and arms control dialogue.
Nuclear security in the Black Sea region: Contested spaces, national capacities and multinational potential
This SIPRI Policy Paper offers a comprehensive overview of perceptions of nuclear security risks in the wider Black Sea region, along with a detailed assessment of how the level and nature of those risks have changed in Ukraine since 2014.
Rebuilding Collective Security in the Black Sea Region
Given the centrality of the Black Sea region for security in Europe, Eurasia, the Balkans and the Middle East, there is an urgent need to address the sources of militarization, insecurity and confrontation in the region. This SIPRI Policy Paper highlights a number of initial steps to begin to rebuild collective security in the Black Sea region.
Protracted armed conflicts in the post-Soviet space and their impact on Black Sea security
The events of 2014 in Ukraine—the takeover of Crimea by Russia and the start of the internationalized civil war in the east of the country—have refocused attention on the problem of protracted conflicts in the territory of the former Soviet Union (the 'post-Soviet space'). This paper provides background information on these conflicts, their current status and an analysis of how they influence the security dynamics around the Black Sea.
Bulgaria and Black Sea security
As a member of the North Atlantic Treaty Organization (NATO), Bulgaria aims to support NATO's security objectives of increasing military spending, enhancing defence capacities and developing interoperability. Bulgaria contributes to NATO's military activities in the Black Sea region and regularly hosts and participates in exercises with NATO partners. However, Bulgaria also tries to remain on good terms with Russia by way of bilateral economic and political cooperation.
Georgia and Black Sea security
Georgia revised its defence policy significantly after the fighting between Georgia and Russia in South Ossetia in August 2008. Since then, Georgia has continued to perceive Russia's foreign policy as aggressive and a major threat to its security. Georgia views membership of NATO and the European Union as strategic priorities. Georgia actively participates in and supports NATO activities in the Black Sea region, which it sees as a means to ensure stability in the region.
Romania and Black Sea security
The events of 2014 have clearly had an impact on Romania's perception of threats. Although official documents published by Romania since 2014 do not explicitly refer to Russia as a threat, they do raise concerns about security in the Black Sea region. Romania's defence policy has also prioritized the modernization of its armed forces. As a member of NATO, Romania has emphasized the strategic significance of the Black Sea region in NATO discussions.
Russia and Black Sea security
With large armed forces around the Black Sea, Russia plays an important role in the security of the Black Sea region. Russia sees the NATO expansion eastwards as a threat to its security. To keep strategic balance with NATO, Russia has responded by enhancing its military forces, including in the Black Sea region. Russia also sees the Black Sea as its access point to the Mediterranean region, where Russia's role has been growing significantly in recent years.
Turkey and Black Sea security
Although security in the Black Sea region has always been and remains important for Turkey, the current Turkish defence policy seems to be largely directed southwards, towards the Middle East. Russian–Turkish relations have been ambiguous for some years. Turkey has openly expressed concern about perceived Russian ambitions in the Black Sea region and called for a greater NATO presence there. However, Turkey's relations with Russia have been improving since mid-2016 while its commitment to NATO appears to have weakened.
Ukraine and Black Sea security
The loss of Crimea and the conflict in the east of the country have dramatically changed Ukraine's relations with Russia and its position in the Black Sea. The civil war has become by far the most important security issue for Ukraine and Russia has become the main threat to its security. These events have also caused Ukraine to prioritize member­ship of NATO.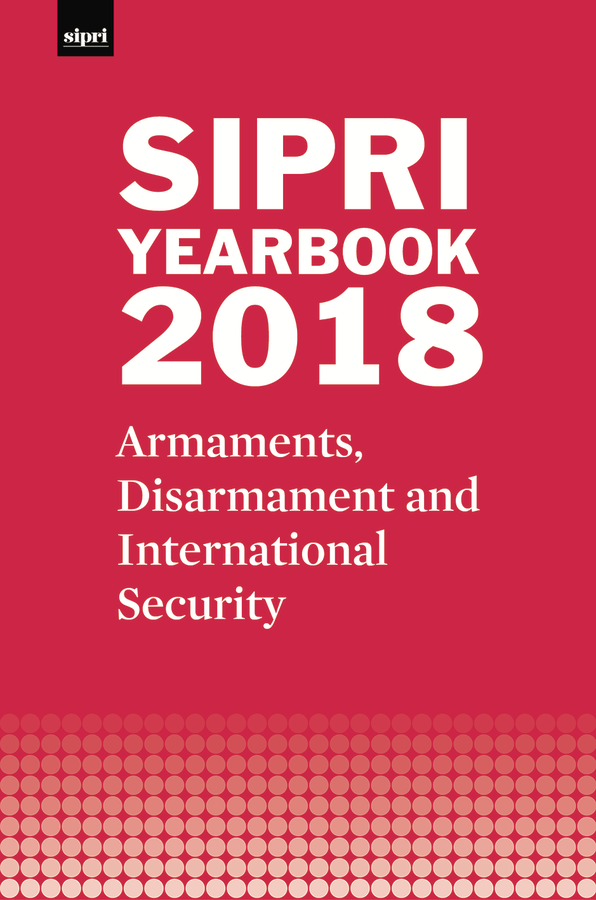 SIPRI Yearbook 2018
The 49th edition of the SIPRI Yearbook is a compendium of data and analysis in the areas of security and conflicts; military spending and armaments; and non-proliferation, arms control and disarmament. It also features sections on:
debt, oil price and military expenditure;
international non-proliferation sanctions against North Korea;
allegations of chemical weapons in Iraq and Syria.