STOCKHOLM INTERNATIONAL
PEACE RESEARCH INSTITUTE
SIPRI Update: September 2022
The independent resource on global peace and security
---
NEWS
2022 Stockholm Security Conference

On 8–14 November, SIPRI will convene the seventh annual Stockholm Security Conference on 'Trends of Conflict and Warfare in the 21st Century: Effects and Impact of the War in Ukraine'. The 2022 conference takes place against the backdrop of a war that is considered a game changer. Last year nobody expected the type of war being witnessed in Ukraine: a contemporary interstate war in Europe. The conference will focus on the means and methods of warfare used in Ukraine and what implications they have for military spending, the development of new weapons and the role of information warfare. 

 

 
New video series—Perceptions on food security and peace in South Sudan

This month SIPRI launched a new video series on perceptions of food security in South Sudan as part of a broader knowledge partnership between SIPRI and the World Food Programme (WFP). The interviews—featuring a wide range of voices and viewpoints—highlight numerous sources of insecurity in an already fragile setting. The main security challenge is the prevalence of violent conflict in all 10 states and the 3 administrative areas of South Sudan.

 

 
Environment of Peace report: Featured in new UNDP report and summary now available in six languages

The executive summary of SIPRI's flagship report Environment of Peace: Security in a New Era of Risk has now been published in all six official languages of the United Nations. The translations are an important step to disseminating the key messages of the report to a broader audience. This month the report also featured in a spotlight section in the latest edition of the Human Development Report, which is published by the UN Development Programme (UNDP).

 

Read more | Download the summaries | Read more about the UNDP report

 
Ukrainian translation of SIPRI Yearbook 2021 now available    

Earlier in September, SIPRI launched the Ukrainian language translation of SIPRI Yearbook 2021, in collaboration with the Razumkov Centre (Ukrainian Centre for Economic and Political Studies). SIPRI Yearbook 2021 is the 52nd edition of the SIPRI Yearbook and the 22nd edition of the Yearbook in Ukrainian. This translation was made possible by the long-time cooperation between SIPRI and the Razumkov Centre and the financial support of the Swiss Federal Department of Defence, Civil Protection and Sport.

 

Read more | Download the Ukrainian translation of SIPRI Yearbook 2021 (PDF)

 
SIPRI to co-host intensive course on WMD non-proliferation and disarmament pathways
SIPRI and the European Union Non-Proliferation and Disarmament Consortium (EUNPDC) will host an intensive introductory course on the proliferation of weapons of mass destruction (WMD), mechanisms to control their further spread and pathways to disarmament. The course will take place in Stockholm on 6–8 December 2022. It is open to graduate and postgraduate engineering students and will be led by renowned experts on WMD non-proliferation, arms control, disarmament, export controls, verification and related subjects.
 

 
---
COMMENTARY
Towards a more secure future through effective multilateralism based on facts, science and knowledge
As world leaders gather in New York for the opening of the 77th session of the UN General Assembly, far too many security key indicators are heading in a dangerous direction. We can, and must, turn them around, writes Stefan Löfven, Chair of the SIPRI Governing Board, in this essay. These interlocking challenges share some common features. Their consequences, and often their drivers, do not respect borders or alliances. Therefore the only realistic path towards a 'greener, better, safer future' on this planet lies through cooperation. And successful cooperation needs to be underpinned by reliable, non-partisan information and analysis, which means that SIPRI's core mission remains as important as ever.
Looking beyond the NPT: Next steps in arms control and disarmament
The latest review cycle of the 1968 Nuclear Non-Proliferation Treaty (NPT) reached an unsatisfactory conclusion on 26 August. Despite last-minute negotiations and the evident willingness of other states parties to agree on a final outcome document, the Russian delegation blocked agreement. The failure of the 10th NPT Review Conference to find consensus did not come as a surprise. Yet the challenges facing the NPT lie much deeper than the current tensions over Ukraine. A consensus outcome would only have provided a temporary reprieve from myriad problems that will ultimately need to be addressed outside of NPT meetings. In this SIPRI Essay, the authors discuss the enduring challenge of disarmament and search for possible ways forward.
Transnational organized crime: A threat to global public goods
Transnational organized crime poses an array of profound challenges to sustainable development, as well as to global public goods such as peace and security. This SIPRI Topical Backgrounder argues that the fight against transnational organized crime deserves a prominent place in efforts to reinvigorate multilateral cooperation. It identifies two key tasks for strengthening multilateral responses to transnational organized crime. First, efforts should be made to develop a more comprehensive understanding of how transnational organized crime and corruption undermine essential global public goods. Second, political will needs to be built to work through effective instruments for international cooperation.
Read the SIPRI Topical Backgrounder
---
RECENT EVENTS
23 August–1 September 2022
SIPRI experts join World Water Week 2022
World Water Week 2022 provided SIPRI experts with an opportunity to present aspects of their work on the security implications of climate and environmental change, including the Environment of Peace report. Organized by the Stockholm International Water Institute, this year's World Water Week was held on the theme 'Seeing the Unseen: The Value of Water'.
28 August–2 September 2022
2022 Summer School on Armament and Disarmament
On 28 August–2 September, SIPRI and the Alva Myrdal Centre for Nuclear Disarmament at Uppsala University, in cooperation with the Odessa Center for Nonproliferation, hosted the 2022 Armament and Disarmament Summer School. Participants engaged in a week-long programme of lectures, seminars and training workshops on armament and disarmament matters that aimed to develop their knowledge and skills and motivate and empower them to further expand their expertise in these critical issues and beyond.
---
STAFF NEWS
SIPRI is currently accepting applications for:
Project Controller (Closing date: 25 September).
WMD Non-Proliferation and Disarmament Pathways: Intensive introductory course for graduate and postgraduate students of engineering disciplines, Stockholm, 6–8 December 2022 (Closing date: 15 October).
Senior Researcher and Programme Director, Arms Transfers Programme (Closing date: 11 November).
---
PUBLICATIONS
Mapping European Union Member States' Responses to Climate-related Security Risks
This report identifies European Union (EU) member states' efforts to address climate-related security risks in the short to medium term and suggests entry points for further action. Even countries making visible attempts to mainstream the linkages between climate change and security are falling short of pursuing a comprehensive approach. EU member states must advance their climate security initiatives and close the gap between rhetoric and practice to remain credible.
This paper is part of a two-paper set that examines institutional responses to climate-related security risks.
Read the SIPRI Research Policy Paper
Advancing European Union Action to Address Climate-related Security Risks
This report assesses the priorities of selected EU member states regarding climate-related security risks, explores their strategies for pursuing these at EU level and identifies steps for further action. It finds that member states' level of political commitment to tackling climate-related security risks at the EU level varies. The paper recommends additional steps for action, but in order to make effective adjustments to EU processes, climate security will need greater prominence on the EU agenda.
This paper is part of a two-paper set that examines institutional responses to climate-related security risks.
Read the SIPRI Research Policy Paper
Improving the Prospects for Peace in Nigeria: Spotlight on Stabilization
This report is the first of a series of three that explores the potential of the WFP's crisis response in Nigeria to contribute to the prospects for peace. It presents the findings from the stabilization deep dive part of the research, which explored the potential for WFP crisis response to contribute to a reduction in direct violence, enhance basic physical security and increase stability. The evidence indicates that WFP programming could contribute to enhancing stability in north-east Nigeria if WFP were to intentionally seek to do so. The report makes eight recommendations.
Improving the Prospects for Peace in Nigeria: Spotlight on Cash-based Transfers
This is the second report of the series that explores the potential of WFP in Nigeria to contribute to the prospects for peace. It aims to provide a better understanding of how WFP cash-based transfer (CBT) interventions in Nigeria make peace contributions and looks at how these contributions could be further enhanced. The findings suggest that WFP's CBT interventions can—and do—positively contribute to improving the prospects for peace in Nigeria. Nonetheless, there is room for improvement to further strengthen and systematize current engagements, and the report makes 12 recommendations.
Improving the Prospects for Peace in Nigeria: Spotlight on Measurement
This is the third report of the series that explores the potential of WFP in Nigeria to contribute to the prospects for peace. It aims to provide a better understanding of WFP's monitoring systems in Nigeria. WFP Nigeria has a robust monitoring system that is well suited to monitoring assistance, impact, efficiency and performance. However, it says little about WFP's contributions to improving the prospects for peace. This report provides eight recommendations on how WFP Nigeria can adapt its monitoring systems to overcome some of the challenges of monitoring, assessing and measuring contributions to peace.
The Social Side of Climate Change Adaptation: Reducing Conflict Risk
This policy brief offers insights into the importance of social capital for facilitating climate change adaptation and preventing natural resource-related communal conflict in developing countries. Key social factors that could positively influence adaptation outcomes and mitigate climate-related security risks are often overlooked. Therefore, the policy brief recommends: (a) improving trust between communities and governments through collaborative processes for knowledge exchange, setting priorities and determining appropriate climate change adaptation practices; and (b) increasing knowledge of climate change among traditional and local leaders to strengthen local conflict resolution mechanisms.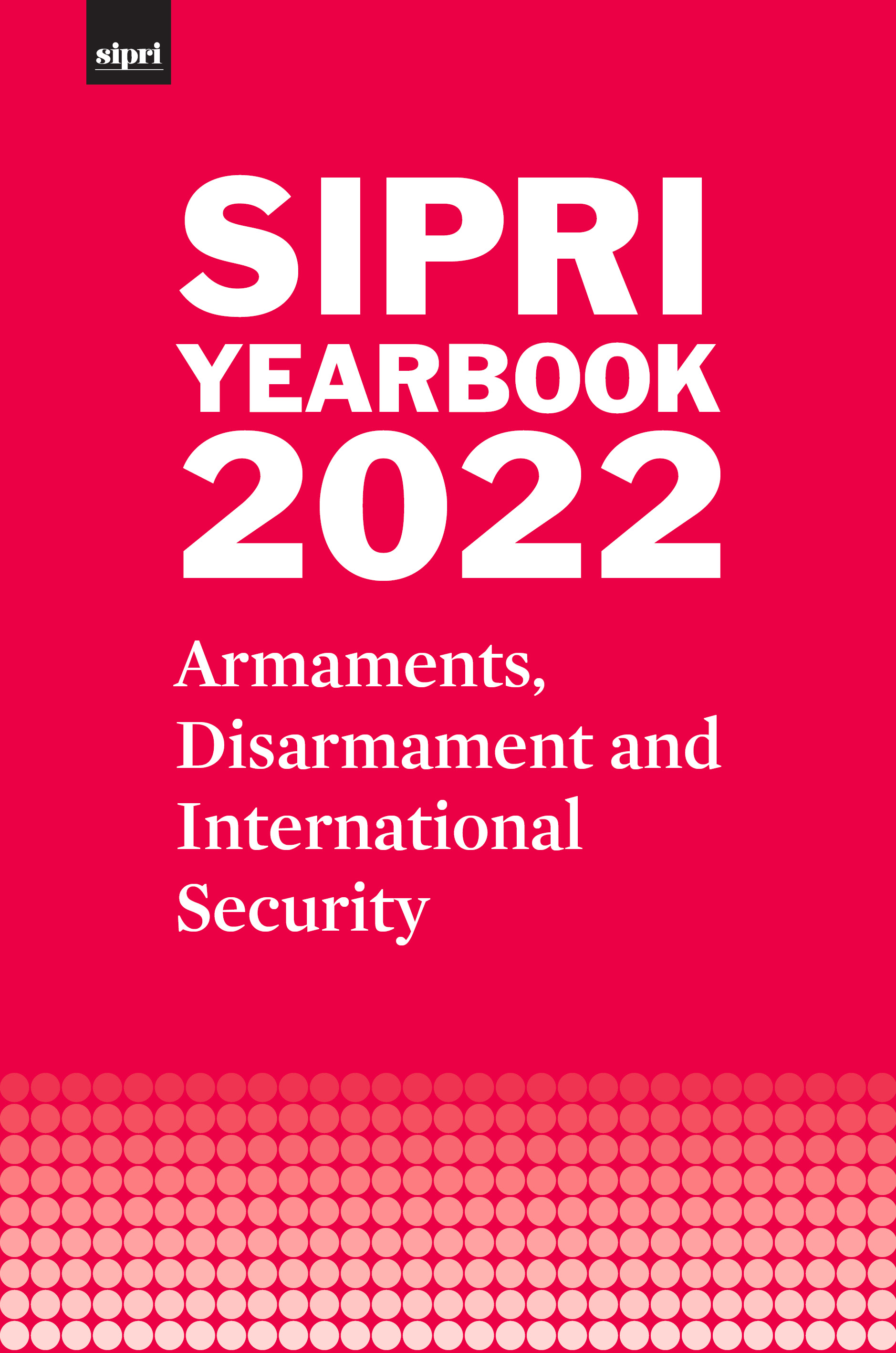 SIPRI Yearbook 2022
SIPRI Yearbook 2022 presents a combination of original data in areas such as world military expenditure, international arms transfers, arms production, nuclear forces, armed conflicts and multilateral peace operations with state-of-the-art analysis of important aspects of arms control, peace and international security. In addition to its detailed coverage of nuclear arms control and non-proliferation issues, the latest edition of the SIPRI Yearbook includes
insight on developments in conventional arms control in 2021;
regional overviews of armed conflicts and conflict management;
in-depth data and discussion on military expenditure, international arms transfers and arms production; and
comprehensive coverage of efforts to counter chemical and biological security threats.
Browse the contents page | Download the summary (PDF) | Download the sample chapter on world nuclear
forces (PDF) | Order SIPRI Yearbook 2022