STOCKHOLM INTERNATIONAL
PEACE RESEARCH INSTITUTE
SIPRI Update: May 2021
The independent resource on global peace and security
---
NEWS
New SIPRI data—Multilateral peace operations in 2020: Developments and trends
Ahead of the International Day of United Nations Peacekeepers, SIPRI released new data on multilateral peace operations. An accompanying topical backgrounder summarized the key findings from the latest data and some of the most important developments in 2020. The first year of the Covid-19 pandemic saw wide-ranging impacts on multilateral peace operations. The crisis simultaneously affected all operations, host nations, headquarters and contributing countries. It caused major disruption—from the political-strategic level where mandates are drawn up, down to the operational and tactical levels. Operations were forced to adapt in order to preserve continuity as far as was possible.
 

Read more | Read the SIPRI Topical Backgrounder | Access the SIPRI Multilateral Peace Operations Database

 
World military spending rises to almost $2 trillion in 2020

This month SIPRI launched new data on global military expenditure. Total global military expenditure rose to $1981 billion last year, an increase of 2.6 per cent in real terms from 2019, according to the newly published data. The five biggest spenders in 2020, which together accounted for 62 per cent of global military expenditure, were the United States, China, India, Russia and the United Kingdom. Military spending by China grew for the 26th consecutive year.

 

Read more | Read the SIPRI Fact Sheet | Access the Military Expenditure Database

 
2021 SIPRI Lecture by HE Dr Madeleine Albright

SIPRI was proud to host the third annual SIPRI Lecture, held on the theme of 'Democracy in a Post-Covid World', virtually on 24 May 2021. The lecture was delivered by HE Dr Madeleine Albright, former Secretary of State of the USA. Dr Albright is known for her lifelong career of public service and her dedication to the promotion of peace, human rights and democracy. During the lecture Dr Albright concluded that, 'Backing for democratic values must be the centrepiece of any strategy to create a more secure, stable, healthy and prosperous environment—the kind of setting in which all people can thrive.' The lecture was followed by a panel conversation and is available to watch on SIPRI's YouTube channel.

 

Read more | Watch the video | Read the transcript of the speech

 
2021 Stockholm Forum on Peace and Development: Photos and videos

The 2021 Stockholm Forum on Peace and Development took place on 4–7 May under the theme 'Promoting Peace in the Age of Compound Risk'. The Forum explored novel approaches and solutions to promoting peace in the age of interconnected political, social, economic and environmental risks reinforced by the Covid-19 pandemic. Videos from the studio sessions and photos from the Forum are now available to browse here.

 

Read more | Watch the Forum Playlist

 
SIPRI contributes to the Second German National Dialogue Forum on the Biological Weapons Convention
On 21—22 April SIPRI participated in the Second German National Dialogue Forum on the Biological Weapons Convention. The event was organized by the German Federal Foreign Office and was held in a virtual format. SIPRI was represented by Kolja Brockmann, Researcher in the Dual-Use and Arms Trade Control Programme, who was among the panellists in a session on the topic of 'Freedom of Science and Responsible Science – How Unlimited is or Should Science be?'.
 

 
---
COMMENTARY
Why is Iran producing 60 per cent-enriched uranium?
On 13 April, Iran announced its intention to enrich uranium to 60 per cent U-235. The move comes against the backdrop of sensitive negotiations happening in Vienna aimed at rescuing the 2015 Iran nuclear deal, the Joint Comprehensive Plan of Action (JCPOA), and bringing the USA back into compliance with the deal. Iran's decision has inevitably drawn international attention because it brings the country so close to producing 90 per cent-enriched uranium, which is generally considered weapons-grade. In this SIPRI Essay Robert E. Kelley writes that although uranium enriched to 60 per cent cannot be used to make a useful nuclear explosive device, the step to weapons-grade uranium is very short, which strongly suggests that the intention was to send a political message.  
Arms transfers to conflict zones: The case of Nagorno-Karabakh
The conflict between Armenia and Azerbaijan over Nagorno-Karabakh escalated in 2020 into a six-week war in which an estimated 5700 people died. This topical backgrounder discusses the military build-up in both countries that preceded the 2020 war. It focuses on the role of external arms suppliers and their transfers of major arms and other military equipment to the two countries. Although the immediate causes for the war in 2020 are difficult to assess, the fact that Armenia and Azerbaijan had access to more weapons than in the past—including new types of weapon, such as UAVs—appears to have at least partly driven the escalation of the conflict.
Read the SIPRI Topical Backgrounder
Feeding peace 
The impact of conflict on food security is well documented. But does food security and feeding the hungry really contribute to peace, or is it an exaggeration? This SIPRI WritePeace Blog explores the instrumentalization and weaponization of food insecurity in conflict, addresses the role of humanitarian interventions, and the key role of government in building lasting change. In this piece, Dr Vongai Murugani argues that initiatives by humanitarian actors must be complemented by long-term national development strategies which extend to excluded communities. Food-based interventions are more likely to improve the likelihood of establishing lasting peace if they are part of thoughtfully designed interventions with the aim of developing food secure, better serviced and functioning communities.
Read the SIPRI WritePeace Blog
2021 Stockholm Forum partner blogs
Ahead of the 2021 Stockholm Forum on Peace and Development, SIPRI published a series of guest blogs by Forum partners linking to their sessions. The blogs cover a range of topics and can be accessed below.
---
UPCOMING EVENTS
8–11 November 2021
Stockholm Security Conference: Battlefields of the Future
SIPRI is pleased to announce that the sixth annual Stockholm Security Conference will convene in a virtual format on 8–11 November. The theme for this year's conference is 'Battlefields of the Future: Trends of Conflict and Warfare in the 21st Century'. Save the date (8–11 November) and join leading experts, practitioners and policymakers as they exchange views for a better understanding of the challenges to international security and the role of governments, multilateral organizations, humanitarian actors, researchers and civil society in dealing with the challenges of the battlefields of the future.
23 June 2021
Trick and Treat: Firearms Diversion Through Fraud in the European Union
On 23 June SIPRI will be represented by Giovanna Maletta, Researcher in the Dual-Use and Arms Trade Control Programme, at a webinar held in the context of Project DIVERT. During their—often very long—lifecycle, firearms can be diverted from the legal market into the illegal market through various types of fraudulent activities. In the European Union (EU) little systematic empirical research has been undertaken on this type of diversion. Project DIVERT is a research project, funded by the EU's Internal Security Fund—Police, which focuses on the diversion of live-firing firearms from the legal domain into the illicit sphere within the EU. The project is coordinated by the Flemish Peace Institute.
---
STAFF NEWS
Current vacancies
Redovisningsekonom (Closing date: 27 May).
HR Officer (Closing date: 27 May).
Virtual Internship
---
PUBLICATIONS
New Technologies and Nuclear Disarmament: Outlining a Way Forward
This report sheds light on the impact of recent military-technological advancements on nuclear deterrence and disarmament. Noting that progress towards multilateral disarmament is hardly possible without prior and significant reductions in the largest nuclear weapon arsenals, the report views the resumption of bilateral arms control between Russia and the USA as the most important step towards disarmament at the present moment. It argues that these two countries should move away from their cold war era nuclear doctrines, which seek an ability to win nuclear wars, towards a policy of 'minimal nuclear deterrence', that is focused on deterring a nuclear attack.
Trends in World Military Expenditure, 2020
World military expenditure in 2020 is estimated to have been $1981 billion, the highest level since 1988—the earliest year for which SIPRI has a consistent estimate for total global military spending. World military expenditure in 2020 was 2.6 per cent higher in real terms than in 2019 and 9.3 per cent higher than in 2011. The global military burden—world military expenditure as a share of global gross domestic product—rose by 0.2 percentage points in 2020, to 2.4 per cent. This increase was largely due to the fact that most countries in the world experienced severe economic downturns in 2020 related to the Covid-19 pandemic, while military expenditure continued to rise overall. This Fact Sheet highlights the regional and national military expenditure data for 2020 and trends over the decade 2011–20.
A Proposal for a Ban on Destructive Anti-Satellite Testing: A Role for the European Union
International fora have pursued space security regulation with little progress. Among threats to space security, destructive anti-satellite (ASAT) testing has emerged as a particularly destabilizing force. With an increasing number of states demonstrating ASAT capabilities, the regulation of ASATs demands action to prevent tensions from escalating to the point of conflict. This paper gives an overview of past ASAT tests and argues that destructive ASAT testing requires urgent policy intervention. The paper proposes a complete ban on destructive ASAT testing, drawing inferences from the EU's draft Code of Conduct for Outer Space Activities. The paper additionally proposes that the EU assumes the role of facilitator in the proposed policy measure.
Read the EU Non-Proliferation and Disarmament Paper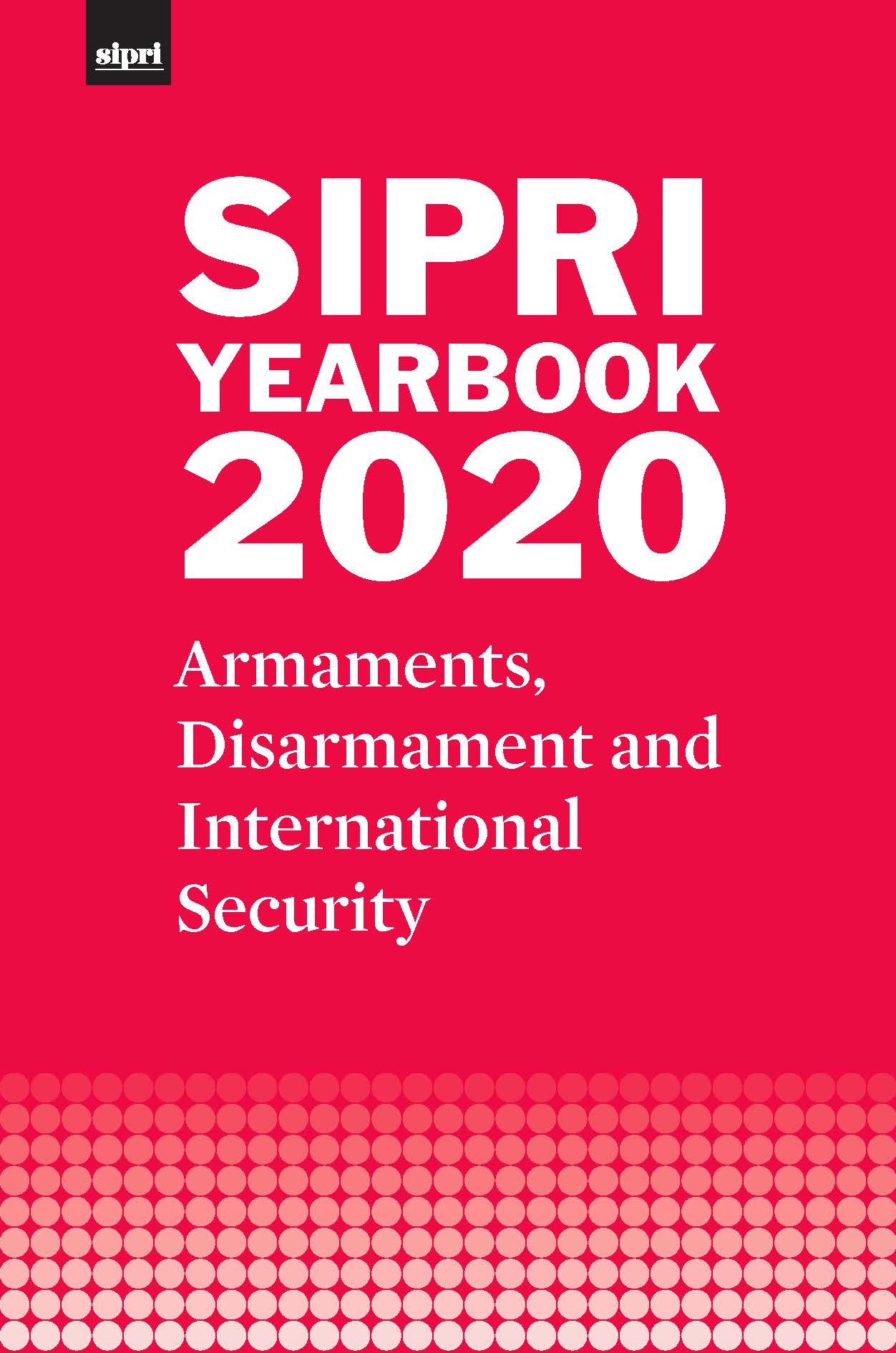 SIPRI Yearbook 2020
SIPRI Yearbook 2020 presents a combination of original data in areas such as world military expenditure, international arms transfers, arms production, nuclear forces, armed conflicts and multilateral peace operations with state-of-the-art analysis of important aspects of arms control, peace and international security. It covers developments during 2019, including:
the state of nuclear arms control;
transparency in military spending;
regional overviews of armed conflicts; and
the investigation of allegations of chemical weapon use in Syria.
Browse the contents page | Download the summary (PDF) |
Order SIPRI Yearbook 2020