STOCKHOLM INTERNATIONAL
PEACE RESEARCH INSTITUTE
SIPRI Update: March 2021
The independent resource on global peace and security
---
NEWS
New SIPRI data on international arms transfers
This month, SIPRI launched new data on global arms transfers. International transfers of major arms stayed at the same level between 2011–15 and 2016–20. Substantial increases in transfers by three of the top five arms exporters—the United States, France and Germany—were largely offset by declining Russian and Chinese arms exports. Middle Eastern arms imports grew by 25 per cent in the period, driven chiefly by Saudi Arabia (+61 per cent), Egypt (+136 per cent) and Qatar (+361 per cent).
 

Read more | Read the SIPRI Fact Sheet | Access the Arms Transfers Database

 
Annual Review 2020—now available

SIPRI releases its Annual Review 2020, which takes a retrospective look at the institute's activities, commentaries, events, news and publications over the past year. Throughout 2020, SIPRI has continued its commitment to identify and understand both the evolving risks to security and the opportunities to build and sustain peace, through impartial and high-quality analysis. Examples of SIPRI's activities in 2020 include a detailed exploration of autonomy in weapon systems, an assessment of the impact of climate change on peace operations, an investigation into people's perceptions of governance, development and security in the Sahel and West Africa, and the establishment of SIPRI's new Middle East and North Africa Programme.

 

Read more | Download Annual Review 2020

 
SIPRI experts give evidence to the British Parliament Committees on Arms Export Controls

On 16 March, SIPRI experts gave evidence to the British Parliament Committees on Arms Export Controls as part of the committee's inquiry into British arms exports in 2019. The oral evidence session was held virtually. SIPRI was represented by Dr Sibylle Bauer, Director of Studies, Armament and Disarmament; Dr Andrea Edoardo Varisco, Acting Director, Dual-Use and Arms Trade Control Programme; and Kolja Brockmann, Researcher, Dual-Use and Arms Trade Control Programme.

 

 
SIPRI Yearbook 2020 Summary now available in eight languages

Thanks to SIPRI's translation partners, the summary of SIPRI Yearbook 2020 is now available in Catalan, Dutch, Farsi (Persian), French, Italian, Korean, Spanish and Swedish. Released in June 2020, the 51st edition of the SIPRI Yearbook is a compendium of cutting-edge information and analysis on developments in armaments, disarmament and international security. It is available in print and online from Oxford University Press.

 

 
---
COMMENTARY
Peace Points: Reflections on the arms control agenda in 2021
In this episode of Peace Points, Dan Smith, SIPRI Director, reflects on the current range of arms control issues—a topic central to the work of SIPRI. The episode comments on the ambitious arms control agenda set by the Biden Administration, which recently extended the 2010 Russian–US bilateral treaty on strategic nuclear forces (New START). Smith argues that even though the Biden Administration has prioritized this set of issues, other countries need to step up and support the various arms control agendas.
Watch the Peace Points episode
---
UPCOMING EVENTS
4–7 May 2021
2021 Stockholm Forum on Peace and Development
SIPRI is proud to announce that the 2021 Stockholm Forum on Peace and Development will be held on the theme 'Promoting Peace in the Age of Compound Risk'. The Forum will be held on 4–7 May.
24 May 2021
2021 SIPRI Lecture by HE Madeleine Albright
SIPRI is pleased to announce that the third annual SIPRI Lecture will honour HE Madeleine Albright, former Secretary of State of the USA. The lecture will be held virtually on 24 May 2021.
---
PUBLICATIONS
A Reassessment of the European Union's Response to Climate-related Security Risks
This SIPRI Insights paper examines how climate-related security risks (CRSRs) are framed and responded to within different bodies of the European Union (EU). The paper finds that CRSRs are framed differently across the EU and that the kinds of actions proposed vary. Although this is not necessarily a problem, a key challenge is that across the EU the prescriptions for addressing CRSRs largely focus on long-term prevention in the form of climate mitigation, on the one hand, and reactive crisis responses, on the other. The paper concludes that the EU needs to broaden its understanding of and response to CRSRs if it wants to take—and inspire—more effective action to reduce such risks.
Read the SIPRI Insights on Peace and Security
Trends in International Arms Transfers, 2020
From 15 March 2021 SIPRI's open-access Arms Transfers Database
includes updated data on transfers of major arms for 1950–2020, which replaces all previous data on arms transfers published by SIPRI. Based on the new data, this SIPRI Fact Sheet presents global trends in arms exports and arms imports, and highlights selected issues related to transfers of major arms.
China–EU Connectivity in an Era of Geopolitical Competition
The long-standing relationship between China and the EU is being subsumed into a broader geopolitical competition between major power centres. Alongside cooperation, elements of competition and rivalry have been sharpened by a re-evaluation of the bilateral relationship by EU actors. Areas of cooperation have included Chinese involvement in the EU's internal connectivity projects—specifically in transport and digital networks. This report examines this cooperation and assesses its prospects. 
Supporting Small Arms and Light Weapons Controls through Development Assistance: The Case of sub-Saharan Africa
Focusing on small arms and light weapons (SALW) control-related assistance provided in sub-Saharan Africa as a case study and comparing information included in separate data sets compiled by SIPRI and the Organisation for Economic Co-operation and Development, this report attempts to provide information on which relevant activities have been supported through official development assistance (ODA) in this region. It shows that only a limited number of donors have used ODA to support SALW control-related assistance and that they have different practices in the way they report on the use of these funds. It also outlines the challenges that make mapping this assistance a particularly difficult exercise.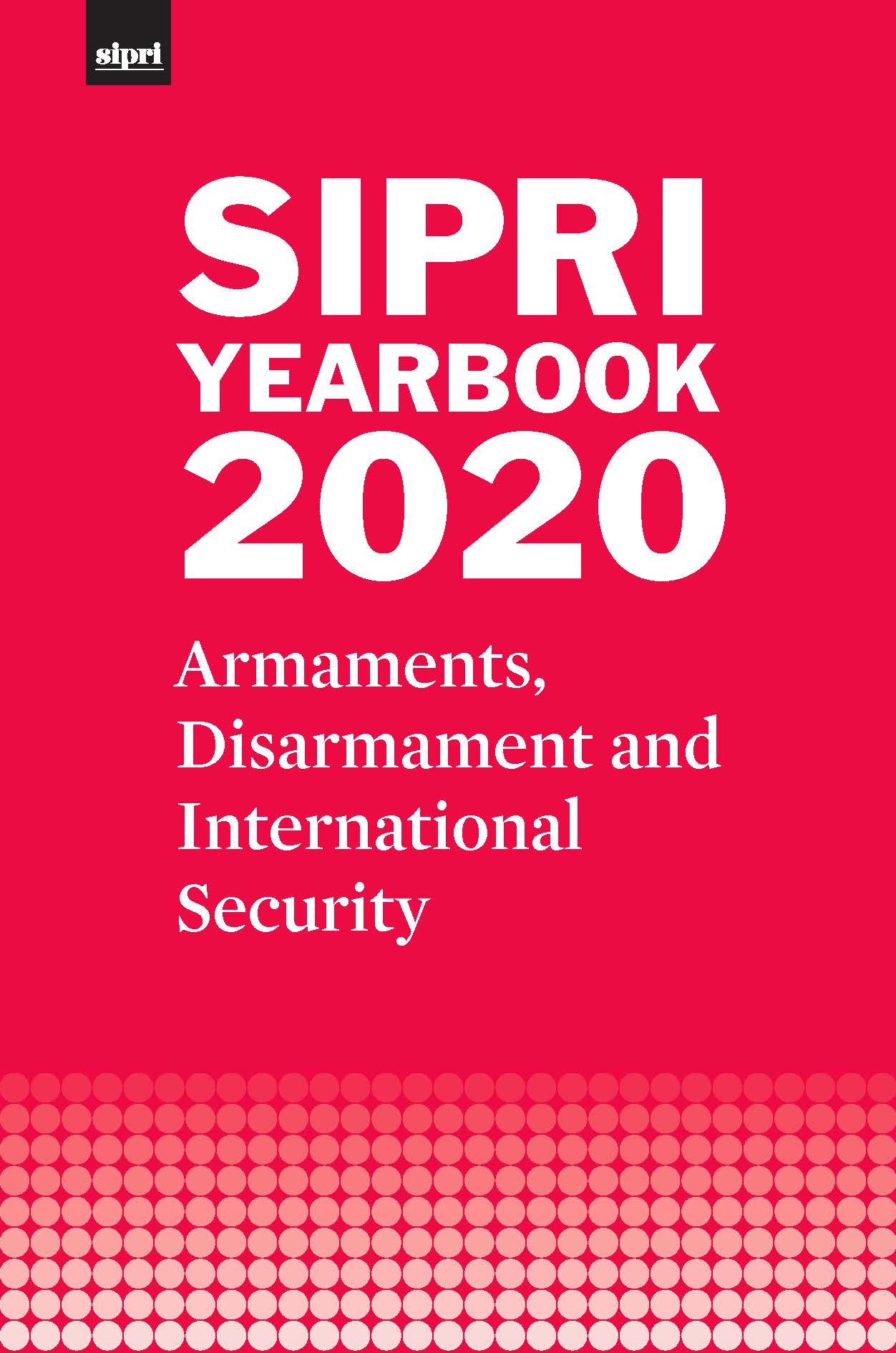 SIPRI Yearbook 2020
SIPRI Yearbook 2020 presents a combination of original data in areas such as world military expenditure, international arms transfers, arms production, nuclear forces, armed conflicts and multilateral peace operations with state-of-the-art analysis of important aspects of arms control, peace and international security. It covers developments during 2019, including:
the state of nuclear arms control;
transparency in military spending;
regional overviews of armed conflicts; and
the investigation of allegations of chemical weapon use in Syria.
Browse the contents page | Download the summary (PDF) |
Order SIPRI Yearbook 2020