SIPRI, along with its partner, Point Sud, have now concluded a four-year study that aims to understand the daily lives of the Malian population and give them a voice.
The study culminates in both a film, that describes the broader aims and context of the work, as well as the research findings, and a report that summarizes the research results (in French).
Watch the SIPRI Reflection Film below.
Click here to download the report.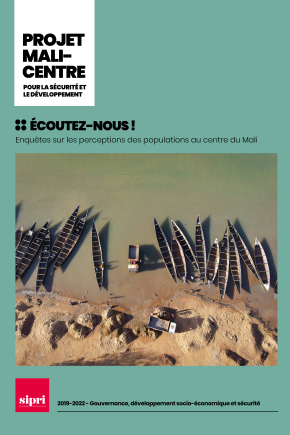 Over the past decade, Mali has experienced a severe crisis. Once seen as a democratic success story in the 1990s, Mali is now at the forefront of a multidimensional crisis encompassing security, economic, political and humanitarian aspects in the Sahel region.
Extensive research conducted by SIPRI and Point Sud reveals the daily struggles of the population and their concerns. The country has faced threats from various armed groups since 2012, leading to increased insecurity and violence that affects civilians the most. The presence of the state varies with the level of insecurity and traditional authorities play a crucial role in protecting communities and resolving conflicts. Poverty, unemployment and food insecurity persist as major challenges alongside the growing instability. The vulnerability of the population in central Mali is a pressing concern, necessitating development and stabilization policies tailored to local contexts. Collaboration between traditional and elected authorities, improving civil-military relations and maintaining essential services provided by the state are crucial steps towards mitigating the crisis and protecting the population.
About SIPRI's work in central Mali
SIPRI's work on central Mali is part of the 'Mali-Centre for Security and Development'. It is funded by the European Union and implemented by SIPRI and its partner Point Sud.
This project involved four years of research carried out by SIPRI and its partner Point Sud during 2019–22. It aimed to collect local understandings of governance, development and security—gathered through a mixed-methods approach—with 12 rounds of surveys and complemented by over 700 interviews and focus groups with central Malians. It offers evidence-based data to address the needs of populations by advocating for multi-level conflict resolution strategies and providing a long-term vision for peace and security.