Today, SIPRI launches a new Reflection film on the conflict in central Mali, calling for a better understanding of local dynamics in order to resolve conflict and build peace in the region. The film is accompanied by a series of short Spotlight interviews presenting the views of the European Union, the United Nations Multidimensional Integrated Stabilization Mission in Mali (MINUSMA) Peacebuilding Fund, the World Food Programme, and Point Sud—a research organization based in Bamako and SIPRI's partner in Mali.
Watch the SIPRI Reflection film and Spotlight interviews on SIPRI's YouTube channel and on Facebook. 
 
No clear dividing line of conflict in the region
There is no distinct frontline of conflict in central Mali. The film explains that conflicts in the region often relate to local disputes and often have their roots in long-standing disputes. Mali's socioeconomic diversity also creates tensions between competing groups, which are exacerbated by the presence of armed groups that are ostensibly protecting different communities. While pastoralist communities, farming communities, fishermen, traders—and a variety of ethnic groups—must cohabitate in the region, the dynamics of conflict can draw them apart.
The character of conflict and actors involved in northern Mali, where violence broke out in 2012, was completely different to that of central Mali. The film states that all of the actors currently operating in central Mali were virtually unknown to the international community and regional analysts around 2015 when violent events started in Mopti. Determining the nature of the crisis and, therefore, creating adequate responses have proved difficult.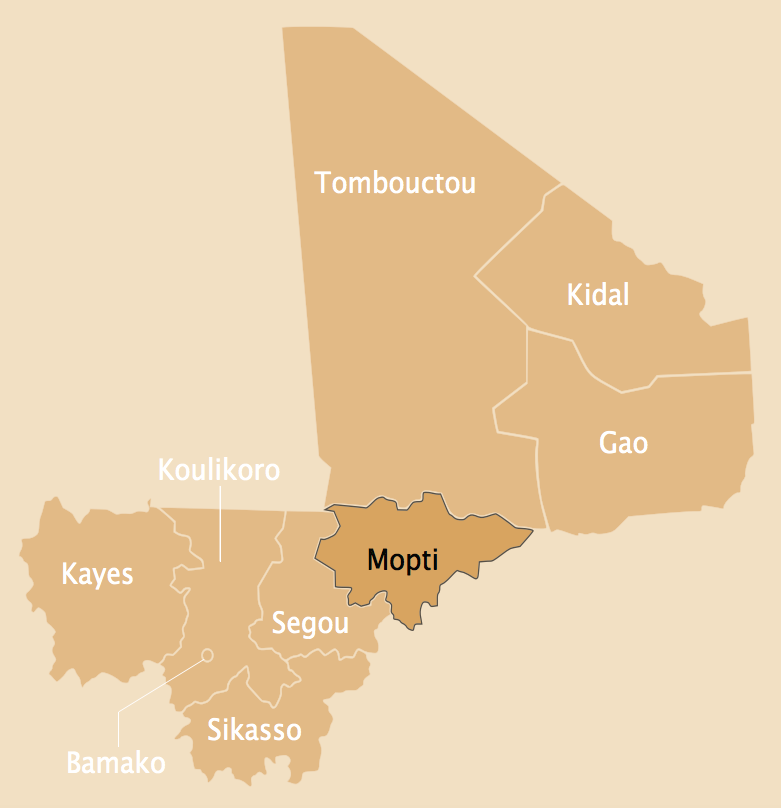 The absence of trusted arbitrators fuels a violence cycle
The state apparatus in central Mali—particularly in Mopti and Ségou—has almost disappeared. Customary authorities have also become increasingly contested. The retreat of these two pillars of trusted arbitration has removed the neutral, legitimate mediators who would normally be able to de-escalate disputes before they become violent, the film explains.
This absence is compounded with the spread and multiplication of armed groups in the region—in part enabled by the proliferation of illicit trafficking of weapons over porous borders in the region. What results is a cycle of violence.
 
All policy and military responses should be informed by local perceptions of insecurity
While there are a number of ongoing international interventions and a significant donor-agency presence in the region, it is clear that insecurity persists. The international community simply does not fully understand the region yet. Therefore, SIPRI's approach in Mali puts an emphasis on asking the diverse local populations how they perceive their own security in an effort to clarify the local understanding of priorities.
Without exploiting the current situation for political purposes, policymakers in Mali, the Sahel and the wider international community can use these insights to respond to local priorities and better coordinate and design their cooperation activities and missions in the region.
About SIPRI's films
SIPRI has developed various film types for different audiences and purposes. This SIPRI Reflection film is part of SIPRI's film series which aims to deliver thoughtful and insightful analysis, driven by SIPRI experts, to guide viewers in key themes of peace and security. Through the overview film in combination with the subsequent series of individual interviews—filmed in Bamako, Mali—SIPRI strives to bring regional perceptions, voices and views to the global debate. Watch more films over at SIPRI's YouTube channel.
For editors
SIPRI's current work on central Mali is funded by the European Union. Access previous publications and films by SIPRI on Mali and the Sahel:
PUBLICATION: Central Mali: Violence, local perspectives and diverging narratives    
COMMENTARY: Pursuing elusive stability in the Sahel
FILM SERIES: Towards peace in the Sahel: Understanding local perceptions of security
PUBLICATION: State services in an insecure environment: Perceptions among civil society in Mali
Media contacts
For information or interview requests contact Alexandra Manolache (alexandra.manolache@sipri.org, +46 766 286 133) or Stephanie Blenckner (blenckner@sipri.org, +46 8 655 97 47).