STOCKHOLM INTERNATIONAL
PEACE RESEARCH INSTITUTE
SIPRI Update: June 2019
The independent resource on global peace and security
---
NEWS
Modernization of world nuclear forces continues despite overall decrease in number of warheads: New SIPRI Yearbook out now
This month, SIPRI launched SIPRI Yearbook 2019, which assesses the current state of armaments, disarmament and international security. To coincide with the launch, SIPRI released new data on world nuclear forces. Despite an overall decrease in the number of nuclear warheads in 2018, all nuclear weapon-possessing states continue to modernize their nuclear arsenals.
 

Read the press release | Read more about SIPRI Yearbook 2019 | Read the summary [PDF] | Watch the Peace Points episode

 
Address by President Moon Jae-in

The Riksdag (the Swedish Parliament)—in cooperation with SIPRI—hosted an address by HE Moon Jae-in, President of the Republic of Korea, on the occasion of his state visit to Sweden. President Moon highlighted the need to build trust between both sides on the Korean peninsula through dialogue and with the support of the international community.

 

Read more | Watch the speech (Korean) | Read a transcript of the speech (English)

 
SIPRI briefs Australia Group on the proliferation risks of additive manufacturing
Kolja Brockmann, a Researcher in SIPRI's Dual-use and Arms Trade Control Programme, briefed the annual plenary meeting of the Australia Group—a major multilateral export control regime made up of 42 states and the European Union—on the impact of additive manufacturing (also referred to as 3D printing).
 

 
---
COMMENTARY
Reducing the risk of naval incidents
This month, 18 countries are participating in a North Atlantic Treaty Organization (NATO) naval exercise in the Baltic Sea. Navies now maintain a forward presence in the Baltic Sea and in the Black Sea to demonstrate their commitment to allies, prepare for crisis response and strengthen deterrence. These deployments all create the scope for incidents that could escalate into a more serious confrontation. This SIPRI essay examines existing naval risk reduction architecture and supplements the new SIPRI Policy Paper 'Reducing military risk in Europe'.
Governance as a root cause of protracted conflict and sustainable peace: Moving from rhetoric to a new way of working
During the 2019 Stockholm Forum on Peace and Development, a roundtable was convened on the challenges of addressing governance factors in peacebuilding and conflict prevention. This WritePeace blog outlines governance-related root causes of conflict and peace to help build a reference framework for context-focused analysis.
Read the SIPRI WritePeace blog
---
UPCOMING EVENTS
7 July–August 2019
SIPRI Yearbook at 50 social media campaign
Last year, the 2001–16 editions of the SIPRI Yearbook were made freely available to download. This year, to mark the 50th edition of the SIPRI Yearbook, the 1968–2000 editions will also be made available online for free. A 50-day social media campaign leading up to the launch of the complete back catalogue will start on 7 July. Follow the campaign on Twitter @SIPRIorg and #SIPRIYearbook.
2 July 2019
Almedalen: SIPRI partners with World Food Programme to discuss hunger and conflict in Mali
SIPRI is pleased to announce its participation at the 2019 Almedalen Week in Visby, Gotland. This year, SIPRI will host a panel discussion in cooperation with the World Food Programme (WFP) about the link between hunger and conflict in Mali. Drawing from a recent case study conducted on Mali, the panel will discuss how hunger affects the conflict and will investigate if it is possible to build sustainable peace without securing access to food.
16 July 2019
The 2030 Agenda at a crossroad: How do we ensure an integrated approach in tackling climate-related security risks, conflict and inequality? 
SIPRI, together with the Government Offices of Sweden, will host a side event at this year's High-Level Political Forum at the United Nations Headquarters in New York. The interactive panel discussion will explore how to ensure an integrated approach in tackling climate-related security risks, conflict and inequality. Contact Karolina Eklöw (karolina.eklow@sipri.org) for more information.
3 October 2019
2019 Stockholm Security Conference
The fourth Stockholm Security Conference (SSC 19) will take place under the theme 'Conflict and technology: Now and in the future'. The conference will look at how the nature of conflict is changing today and how technology impacts conflict. The conference will consider trends and investigate to what extent rapid technological developments will shape conflict.
---
JOB VACANCIES
Two current openings
SIPRI is currently recruiting for two positions:
Research Assistant, Emerging military and security technologies;
Intern, Communications Department.
---
PUBLICATIONS
Reducing military risk in Europe
The investment in military projects in Europe currently outpaces the development of negotiated measures that constrain the use of armed force. As states enhance their military strength, it is important to ensure that political tensions are not increased further. This SIPRI Policy Paper outlines three steps to reduce the risk of military modernization being counterproductive.
Climate change, peacebuilding and sustaining peace
Climate change is not just an issue of human security—it is transforming the entire security landscape. Nonetheless, international efforts to build and maintain peace are not yet taking these emerging challenges systematically into account. This SIPRI Policy Brief illustrates how climate change impacts the efficacy of peacebuilding, specifically the aim (a) to provide peace and security; (b) to strengthen governance and justice; and (c) to ensure social and economic development.
Multilateral peace operations and the challenges of irregular migration and human trafficking
Multilateral peace operations are increasingly confronting a set of relatively new, interrelated and mutually reinforcing security challenges. Two of the most prominent examples of these challenges are irregular migration and human trafficking. This SIPRI Background Paper reviews the existing literature and discussions on peace operations and irregular migration and human trafficking, examines the activities that the operations should take on, and describes how they cooperate and coordinate on these activities. 
Reassessing CBRN Threats in a Changing Global Environment
This edited volume assembles the views of leading academics, policy officials and technical experts from Europe, Japan, South Korea and the United States on the threats posed by chemical, biological, radiological and nuclear (CBRN) weapons. By examining both past and more recent cases, contributors assess the challenges in responding to these risks. The volume also explores how Asian and European countries could work together to safeguard and enhance existing international instruments.
The World Food Programme's Contribution to Improving the Prospects for Peace
Established in 2018, the knowledge partnership between SIPRI and the WFP aims to assess whether—and if so how—the WFP's programming contributes to improving the prospects for peace, while at the same time determining whether the programming has any unwanted negative effects. The report is based on four field research-based case studies in El Salvador, Iraq, Kyrgyzstan and Mali.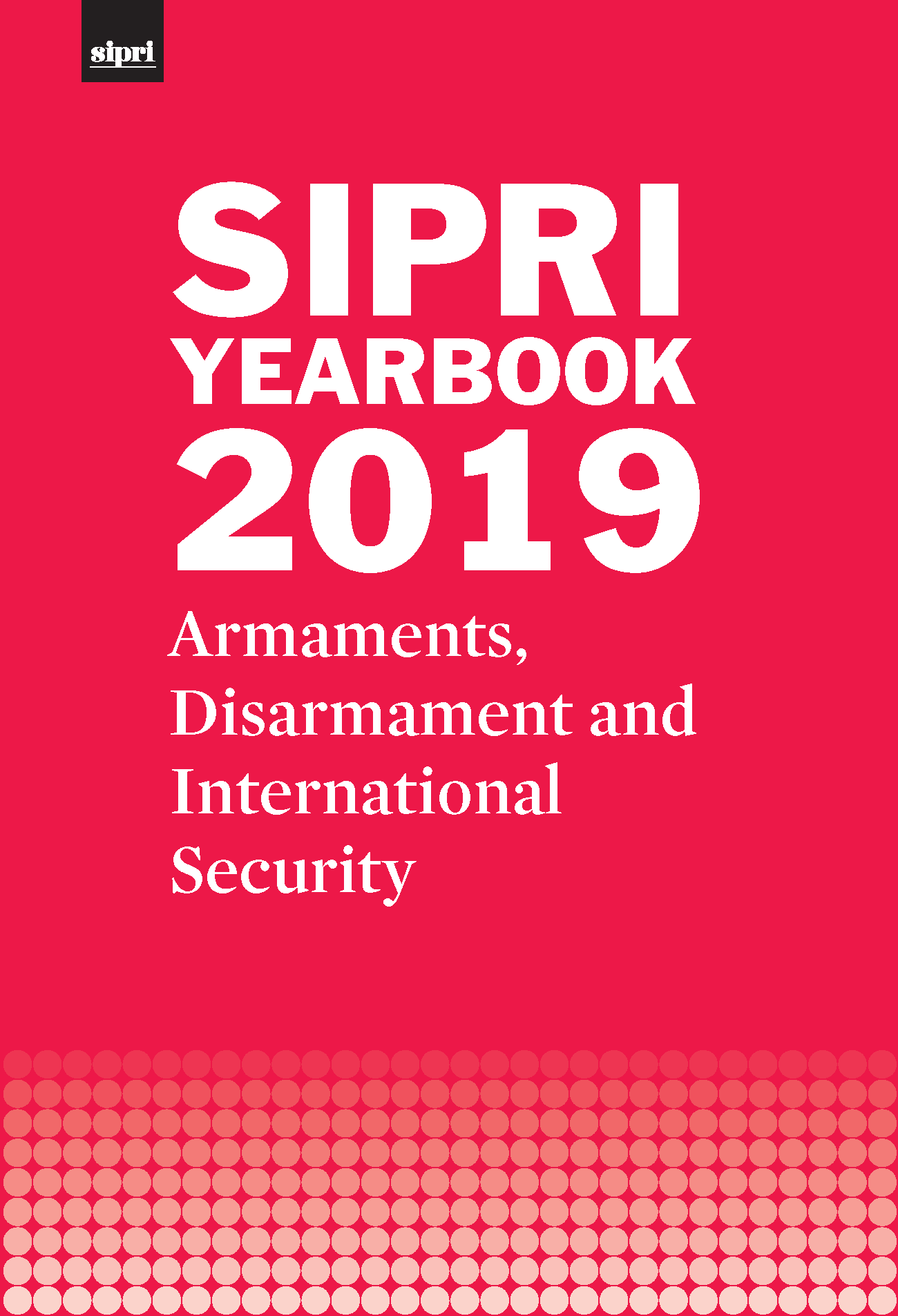 SIPRI Yearbook 2019
The 50th edition of the SIPRI Yearbook is a compendium of data and analysis in the areas of security and conflicts; military spending and armaments; and non-proliferation, arms control and disarmament. It covers developments during 2018, including:
the state of nuclear arms control;
transparency in military spending;
UN peacekeeping reform; and
allegations of chemical weapon use in Syria and the United Kingdom.