STOCKHOLM INTERNATIONAL
PEACE RESEARCH INSTITUTE
SIPRI Update: February 2018
The independent resource on global peace and security
---
NEWS
SIPRI at the Munich Security Conference
SIPRI had an active and engaged presence at this year's Munich Security Conference, 16-18 February. SIPRI hosted a roundtable discussion to consider the risks to peace and security posed by new technologies and the potential solutions or avenues for cooperation states can work towards.
 

Read more | Watch Peace Points: Munich mood music

 
SIPRI and partners launch Arabic translation of SIPRI Yearbook 2017 in Alexandria
SIPRI in partnership with the Centre for Arab Unity Studies and the Swedish Institute Alexandria, launched the Arabic translation of SIPRI Yearbook 2017 as part of a two-day seminar on 'Arab Region Trends of Military Spending - Security, Defense and Development'.
 

Read more | Order the Arabic translation of SIPRI Yearbook 2017

 
SIPRI agrees cooperation with the World Food Programme
SIPRI agreed to a multi-year partnership with the United Nations World Food Programme (WFP) to improve the understanding of the relationship between food, security, stability and peace. SIPRI and the WFP held a seminar in Stockholm with WFP Executive Director, David Beasley. The seminar launched the partnership by considering the ways that malnutrition and hunger cause security risks and how the challenges they pose can be addressed.
 

Read more | Watch SIPRI's Spotlight interview with David Beasley | Watch the event 'Hunger, food security, stability and peace'

 
New SIPRI report examines peace operations and the challenges of organized crime
As part of SIPRI's ongoing initiative looking at non-traditional security challenges posed to multilateral peace operations, SIPRI launched a new background paper. The paper explores the role that peace operations play in preventing and combating organized crime, particularly in weak or collapsed states.
Read more | Download the report
SIPRI's Arms Trade Treaty database now covers East Asia and South East Asia
SIPRI has expanded and improved its online database for Mapping Arms Trade Treaty (ATT)-relevant cooperation and assistance activities to include East Asia and South East Asia. The database now contains information on over 440 cooperation and assistance activities aimed at building capacity in areas relevant to ATT implementation in Sub-Saharan Africa, Latin America and the Caribbean, East Asia, and South East Asia since 2012.
---
COMMENTARY
Strengthening the ban on chemical weapons: The case of Syria
Dr Ian Anthony and Dr John Hart take stock of France's new initiative, ´the International Partnership Against Impunity for the Use of Chemical Weapons´. They consider how the initiative may help hold violators legally accountable.
Shipping along the Arctic's Northern Sea Route will be determined by Russia–China cooperation
On 26 January, China's State Council Information Office published a white paper clarifying China's intentions, vision, goals and objectives for the Arctic. Ekaterina Klimenko analyzes the paper and considers the policy implications it may have for China–Russia cooperation in the Arctic.
Towards a comprehensive approach to sustaining peace - a reality too complex to tweet?
Dr Amiera Sawas and Emma Bjertén-Günther explore the gender, climate change and security nexus. They examine the ways forward and explain how SIPRI is contributing to support a more comprehensive analytical approach through simple, practical guidance.
---
UPCOMING EVENTS
7-9 May 2018
2018 Stockholm Forum on Peace and Development
The 2018 Stockholm Forum on Peace and Development will confront the politics of peace by assessing how different policies, processes and tools could be used to overcome political obstacles to build and sustain peace in complex environments. Information about how to register for the public portion of the Forum (7 May) is forthcoming. Attendance for 8-9 May is by invitation only. Please do not contact SIPRI requesting an invitation. 
---
RECENT EVENTS
22–23 February 2018
SIPRI co-hosts workshop in Myanmar on the regional security implications of the 21st Century Maritime Silk Road
SIPRI and the Friedrich-Ebert-Stiftung (FES) hosted the second of three workshops within a joint project that examines the security implications of the 21st Century Maritime Silk Road (Road) in Yangon, Myanmar. The workshop facilitated a discussion on how the Road has affected security dynamics in the Indian Ocean Region to date and how it may affect dynamics over the medium and long term, particularly as it relates to the European Union's (EU) economic and security interests in the region.
2 February 2018
Hunger, food security, stability and peace
SIPRI, together with the World Food Programme (WFP), held an event in central Stockholm to ask, ´In what ways is hunger a security risk and how can we work together to address the challenges?´.
Read more | Watch the livestream from the event
1–2 February 2018
SIPRI hosts workshop on Intangible Transfers of Technology (ITT)
SIPRI, together with the US Department of State, hosted a workshop on, 'Controlling Intangible Transfers of Technology (ITT): Mapping Key Challenges and Good Practices and Identifying Areas of Improvement'. The aim of the workshop was to discuss key issues related to the application of export controls to ITT, as well as to explore how their implementation could be improved by national authorities, by the EU, and through the use of available guidance materials.
---
JOB VACANCIES
Four current openings
SIPRI is currently recruiting for four positions:
Budget & Finance Coordinator, Sahel and West Africa Programme (Closing date: 15 March)
Budget & Finance Assistant, Sahel and West Africa Programme (Closing date: 15 March)
Event Coordinator, Sweden (Closing date: 11 March)
Financial Coordinator/Controller (Position open until filled)
---
PUBLICATIONS
Multilateral peace operations and the challenges of organized crime
The New Geopolitics of Peace Operations III: Non‑Traditional Security Challenges project seeks to enhance understanding about peace operations and non-traditional security challenges such as terrorism and violent extremism, irregular migration, piracy, organized crime and environmental degradation. As a part of this initiative, this SIPRI Background Paper explores the challenges that terrorism and violent extremism present to multilateral peace operations.
European regional organizations and climate-related security risks: EU, OSCE and NATO
This SIPRI Insights presents a concise analysis of how three regional organizations in Europe with a security mandate have responded to climate-related security risks. The main findings stress that all three intergovernmental organizations (IGOs) acknowledge climate change as a 'threat multiplier' (i.e. a factor that might exacerbate existing drivers of instability and conflict) and are addressing climate security to varying degrees within their mandates. The EU and the Organization for Security and Cooperation in Europe (OSCE) are actively seeking to incorporate climate security in efforts to promote peace and security, whereas the North Atlantic Treaty Organization's (NATO) role currently remains more limited to disaster response.
National Climate-Related Security Policies of the Permanent Member States of the United Nations Security Council
This working paper traces the national climate-related security policies of the five permanent UN Security Council members: China, Russia, the United States, the United Kingdom and France. Specifically, it examines how more traditional security actors within each country have assessed the risk of climate change on national security, and the extent to which they have begun to incorporate any identified climate risks into their plans and operations.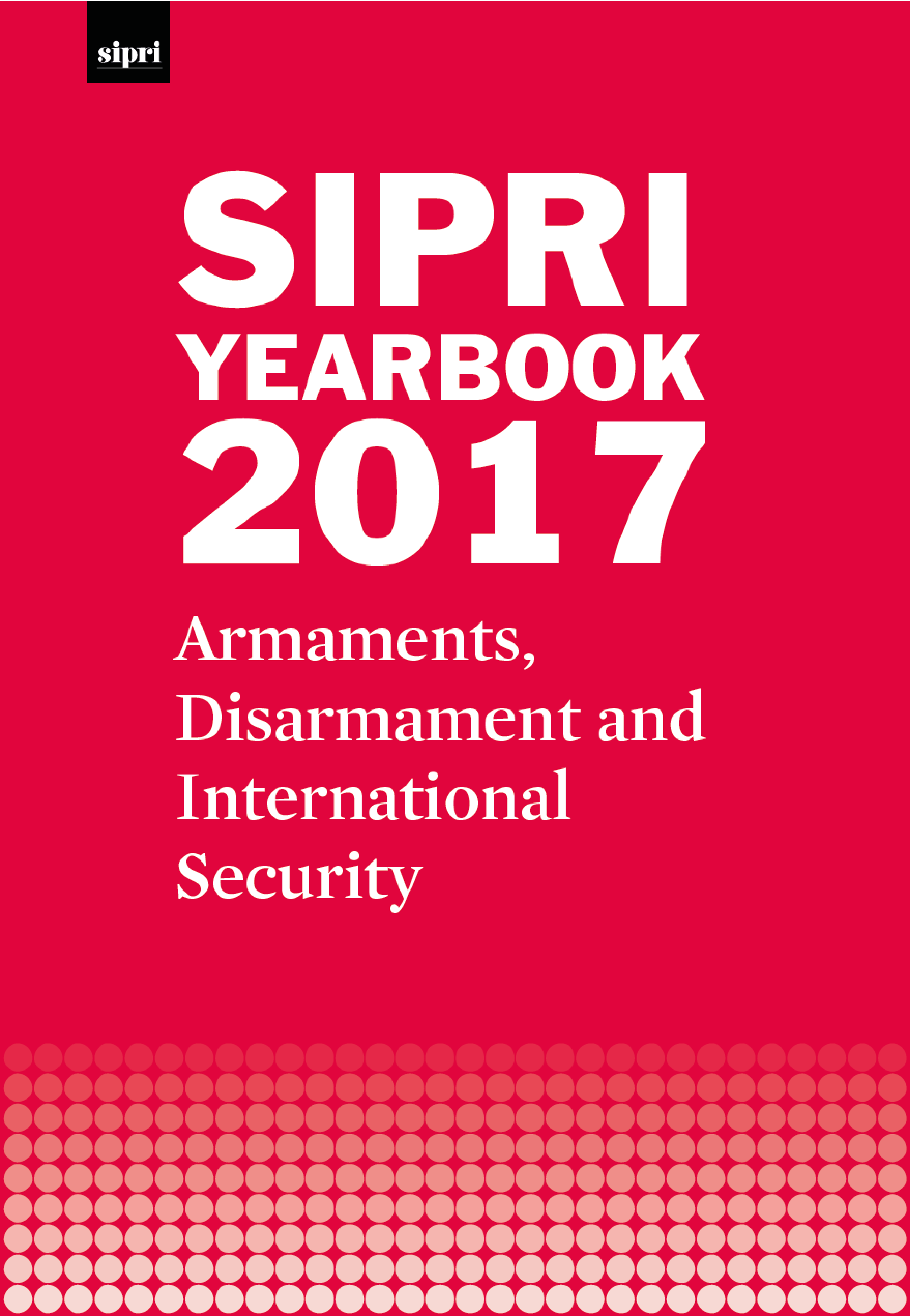 SIPRI Yearbook 2017
The 48th edition of the SIPRI Yearbook is a compendium of data and analysis in the areas of security and conflicts; military spending and armaments; and non-proliferation, arms control and disarmament. It covers developments during 2016, including:
aspects of the conflicts in the Middle East and North Africa;
the peace agreement in Colombia;
forced displacement in fragile contexts; and
the sustaining peace framework of the United Nations.