STOCKHOLM INTERNATIONAL
PEACE RESEARCH INSTITUTE
SIPRI Update: December 2020
The independent resource on global peace and security
---
NEWS
Global arms industry: Sales by the top 25 companies up 8.5 per cent; Big players active in Global South
On 7 December 2020, SIPRI released its data set on the arms sales of the world's largest arms companies along with the results of a mapping exercise on the internationalization of the arms industry. New data from the SIPRI Arms Industry Database shows that arms sales by the world's 25 largest arms-producing and military services companies (arms companies) totalled US$361 billion in 2019. This represents an 8.5 per cent increase in real terms over the arms sales of the top 25 arms companies in 2018.
 

Read more | Download the SIPRI Insights on Peace and Security | Access the SIPRI Arms Industry Database 

 
Save the date: 2021 Stockholm Forum on Peace and Development

SIPRI is proud to announce that the 2021 Stockholm Forum on Peace and Development will be held on the theme 'Promoting Peace in the Age of Compound Risk'. The 2021 Stockholm Forum will explore novel approaches and solutions to promoting peace in the age of compound political, social, economic and environmental risks reinforced by the coronavirus disease 2019 (COVID-19) pandemic. The Forum will use digital technology and partners to foster open exchange with the wider peacebuilding community through hybrid and online sessions.

 

Read more | Watch the short film on the 2020 Stockholm Forum | Watch the discussions from the 2020 Stockholm Forum

 
Virtual Stockholm Security Conference: Session videos now available

On 17–18 November 2020, SIPRI hosted the fifth annual Stockholm Security Conference held for the first time in a virtual format. Videos from all public sessions are now available on SIPRI's YouTube channel. So far, the sessions from the conference have already engaged over 3 500 people from over 60 different countries.

 

Read more | Watch the Stockholm Security Conference playlist

 
New video series on European Union–China relations and connectivity

SIPRI is pleased to launch a new video series on the topic of European Union (EU)–China relations and the role of connectivity, featuring interviews with European and Chinese experts. The series is part of a wider research project exploring the dynamic relationship between the EU and China, as well as the challenges and opportunities for better cooperation on connectivity. The interviews seek to give a voice to the key players in the field and to create a mutual understanding of the complexity of the issues in the project.

 

Watch the video series | Download the SIPRI Insights on Peace and Security

 
Korean translation of SIPRI Yearbook 2020 summary launched in Seoul
On 19 November, SIPRI translation partner PEACEMOMO held an event launching the Korean translation of the summary of SIPRI Yearbook 2020. The launch took place in Seoul, South Korea and was attended by Swedish Ambassador Jakob Hellgren.
 

Read more | Download the Korean translation of SIPRI Yearbook 2020 (PDF)

 
---
COMMENTARY
The new EU peace mediation strategy: A step in the right direction on climate issues
With two new documents, the EU has officially recognized the relevance of climate change to peace mediation. This is a welcome and timely development, but the language used still does not put enough emphasis on the human dimension of climate-related security risks. This SIPRI Expert Comment analyzes these developments and argues that they reflect a weakness in the EU's broader approach to climate-related security risks. Instead, a new approach is needed that puts people, not states, centre stage.
No lasting peace without climate security in the Horn of Africa
Africa has shown itself to be a leader on the issue of climate-related security risks. Kenya's winning bid for a seat on the United Nations Security Council in 2021–22 included a pledge to 'seek lasting solutions to security challenges caused by erratic climatic conditions'. The African Union (AU), for its part, is one of very few regional intergovernmental organizations to explicitly address climate-related security risks within its peace and security architecture. This SIPRI Essay gives a regional view of the climate-related security risks that face Africa and how they can be addressed.
This SIPRI Essay was originally published in the print edition of the East African on 28 November and in the online edition on 12 December. To accompany this commentary piece, SIPRI has also produced a video series with interviews from representatives from East Africa.
Read the SIPRI Essay | Read the essay in the East African | Watch the video series
European Union sanctions on North Korea: Balancing non-proliferation with the humanitarian impact
The international sanctions regime against the Democratic People's Republic of Korea (North Korea, DPRK) is the strongest and most comprehensive set of sanctions currently in effect against any one country. The autonomous sanctions imposed by the EU go beyond the UN sanctions and constitute a crucial element of the sanctions regime. This SIPRI Topical Backgrounder examines the EU's autonomous sanctions on the DPRK in the context of the wider sanctions regime. It provides recommendations aimed to help strengthen the EU's influence on developments in the DPRK and improve compliance with sanctions while also reducing their humanitarian impact.
Read the SIPRI Topical Backgrounder
India's no-first-use dilemma: Strategic consistency or ambiguity towards China and Pakistan
In a recent statement to the Conference on Disarmament, Indian Ambassador Pankaj Sharma, reiterated India's commitment to a policy of no first use (NFU) of nuclear weapons. This reaffirmation, however, followed statements suggesting that India may be reconsidering its NFU pledge. Irrespective of mitigating circumstances and despite arguments that its nuclear posture remains unchanged, there are signs that India may be moving towards greater strategic ambiguity, with NFU as an indicator. This WritePeace blog explores strategic ambiguity and strategic consistency using both texts and interviews with Indian experts.
---
UPCOMING EVENTS
24 May 2021
2021 SIPRI Lecture by HE Madeleine Albright
SIPRI is pleased to announce that the third annual SIPRI Lecture will honour HE Madeleine Albright, former Secretary of State of the United States. The lecture will be held on 24 May 2021.
RECENT EVENTS
8–9 December 2020
SIPRI hosts workshop on nuclear challenges in South Asia
On 8–9 December, SIPRI hosted a virtual workshop on 'Nuclear challenges in South Asia: Views from India, Pakistan, China, Russia, Australia, New Zealand and the USA'. The two-day event was part of SIPRI's project on 'Assessing Nuclear Deterrence Risks and Challenges in South Asia' and featured 13 speakers and over 60 participants. The event was organized by Dr Petr Topychkanov, SIPRI Senior Researcher, and Dr Lora Saalman, SIPRI Associate Senior Fellow.
20 November 2020
SIPRI at inaugural meeting of UN Security Council Members Informal Expert Group on Climate Security
On 20 November 2020, SIPRI briefed the inaugural meeting of the Informal Expert Group of Members of the UN Security Council on Climate and Security. The topic of the virtual meeting was the recent developments in Somalia. Dan Smith, SIPRI Director, and Dr Florian Krampe, Senior Researcher in SIPRI's Climate Change and Risk Programme, represented SIPRI.
12–13 and 25 November 2020
SIPRI at EU Non-Proliferation and Disarmament Consortium events
As part of the European Union Non-Proliferation and Disarmament Consortium (EUNPDC), SIPRI has maintained an active role in this year's Consortium activities. On 25 November, SIPRI engaged in the EUNPDC Next Generation Workshop. During the virtual event, Giovanna Maletta, Researcher in the SIPRI Dual–Use and Arms Trade Control Programme, chaired a session on 'Trade regulation and the fight against illicit small arms and light weapons'.
Earlier on 12–13 November, SIPRI participated in the 9th annual EU-Non-Proliferation and Disarmament Conference. During the event, Dr Sibylle Bauer, Chair of the Consortium and Director of Studies, Armament and Disarmament at SIPRI, chaired a panel on arms diversion and Dr Filippa Lentzos, SIPRI Associate Senior Researcher, moderated a session on biological weapons.
---
VACANCIES
Two current openings
SIPRI is currently recruiting for two positions:
Researcher, Sahel and West Africa Programme
Senior Researcher and Programme Director, Sahel and West Africa Programme
---
PUBLICATIONS
Mapping the International Presence of the World's Largest Arms Companies
Arms companies have a presence that reaches far beyond the countries in which they are headquartered. This is the result of the internationalization of the arms industry. This paper uses a new data set to examine the results of this internationalization in terms of the international presence of major arms companies. It presents a mapping comprising 400 foreign entities linked to the world's largest arms companies. In addition to this, it lists the 25 largest arms-producing and military services companies in the world, ranked by their arms sales in 2019. 
Read the SIPRI Insights on Peace and Security
The World Food Programme's Contribution to Improving the Prospects for Peace in Colombia
This report on Colombia examines World Food Programme (WFP) programming and interventions following the 2016 Colombian peace agreement and investigates the role that WFP plays as the country transitions out of more than 50 years of armed conflict. The report's detailed findings are largely based on local field research involving qualitative assessment through in-depth interviews, focus group discussions and project site visits. It highlights the significant contributions of WFP programming to improving the prospects for peace, identifies crucial conflict sensitivity concerns and suggests 15 actionable recommendations on how WFP's contribution can be enhanced.
Pathways of Climate Insecurity: Guidance for Policymakers
Policymakers are increasingly concerned with the climate-related security risks—the adverse effects of climate change on peace and security. This SIPRI Policy Brief outlines four interrelated pathways between climate change and conflict: livelihoods, migration and mobility, armed group tactics, and elite exploitation. These illustrate the relationship between short- and long-term environmental changes linked to climate change; their impact on the root causes and dynamics of violent conflict; and the critical role of human action, reaction and inaction in mediating violent outcomes. As a policymaking tool, pathways help to identify and navigate the political space for mitigating violent conflict.
The European Union Training Mission in Somalia: An Assessment
This report provides an overview of the European Union Training Mission in Somalia (EUTM Somalia) and assesses its impact on Somalia's conflict dynamics since it was established in 2010. The report analyses EUTM Somalia's main training and advisory activities before assessing its political and operational impacts. It then summarizes the main factors that account for the mission's successes and limitations and sketches three future scenarios for the mission. It concludes that EUTM Somalia had a positive political impact on the EU's relationship with the Federal Government of Somalia and the AU. 
Read the SIPRI Background Paper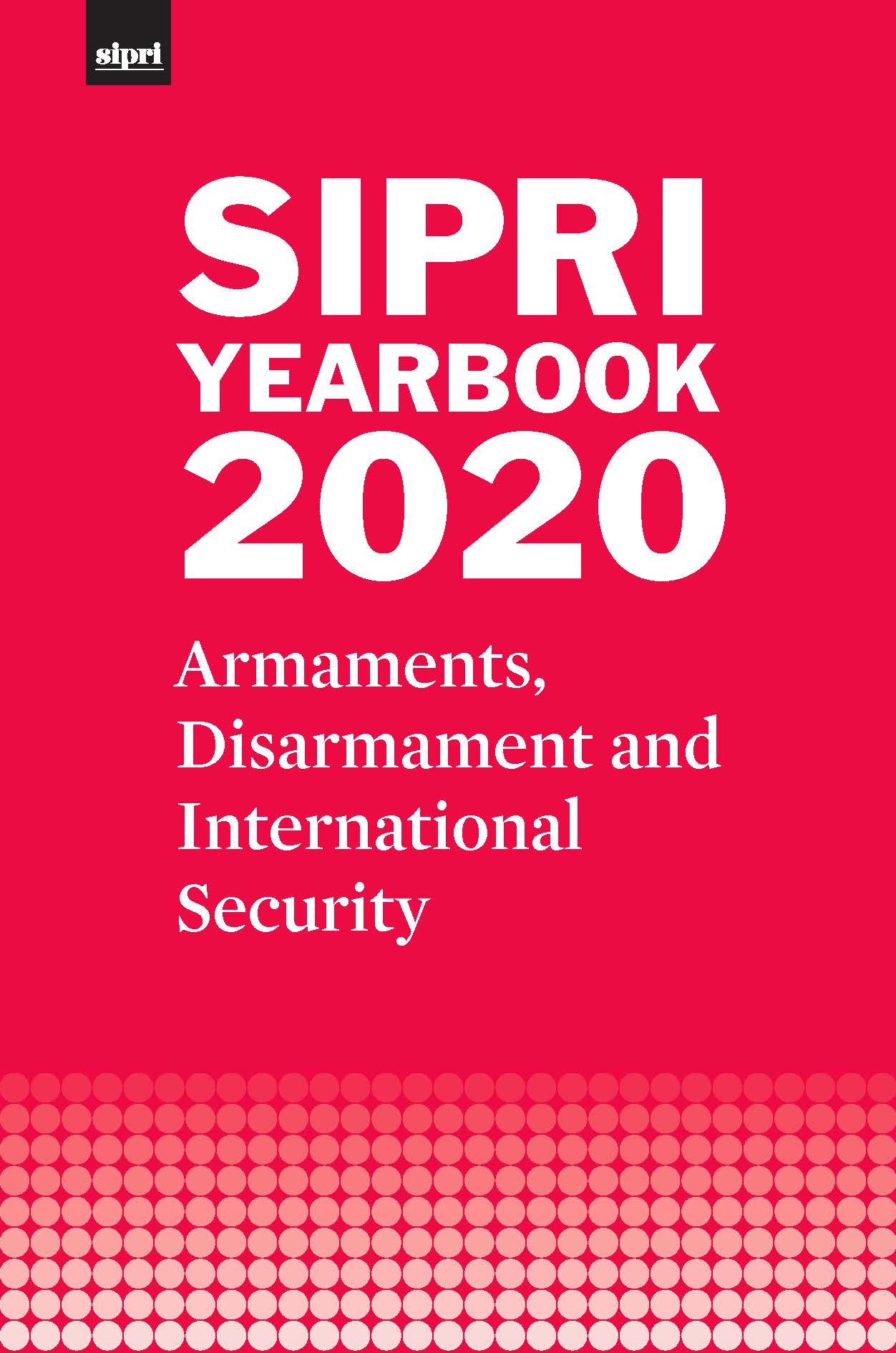 SIPRI Yearbook 2020
SIPRI Yearbook 2020 presents a combination of original data in areas such as world military expenditure, international arms transfers, arms production, nuclear forces, armed conflicts and multilateral peace operations with state-of-the-art analysis of important aspects of arms control, peace and international security. It covers developments during 2019, including:
the state of nuclear arms control;
transparency in military spending;
regional overviews of armed conflicts; and
the investigation of allegations of chemical weapon use in Syria.
Browse the contents page | Download the summary (PDF) | Order SIPRI Yearbook 2020