SIPRI Associate Senior Fellow Sten Hagberg presents results from a study on security in Mali.
In his new publication from Uppsala University, 'Vers une sécurité par le bas ? Étude sur les perceptions et les expériences des défis de sécurité dans deux communes maliennes' (pdf, in French), Professor Hagberg explores how residents in two Malian municipalities experience and understand security. The study reveals a common perception of 'an absense of the state' among Malians and discusses local initiatives to strengthen security, such as self-defence patrols and local conflict resolution efforts.
This study is part of SIPRI's ongoing project in Mali with its Malian partner organization CONASCIPAL. The project aims to support Malian civil society in building sustainable peace in the country.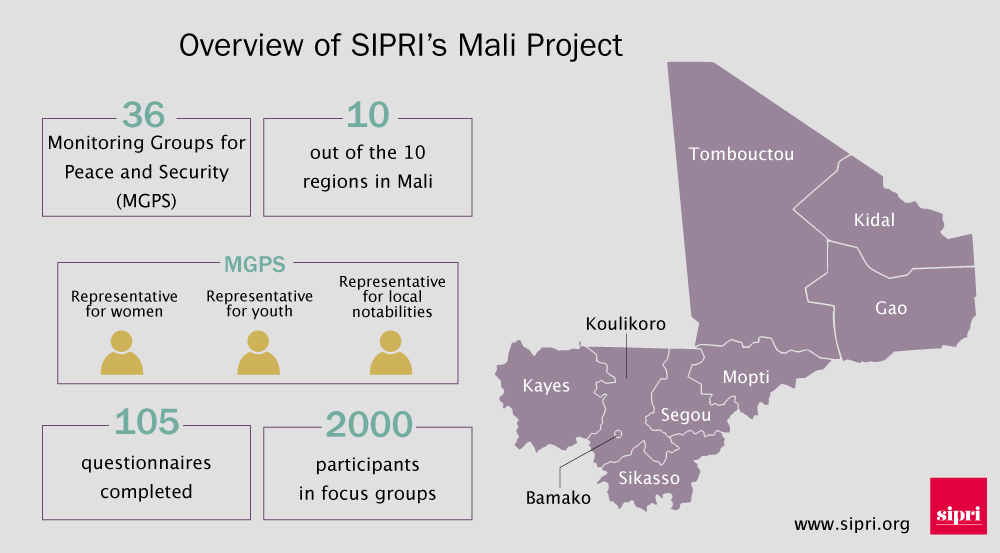 SIPRI's work in Mali puts a strong emphasis on local involvement in the peace proocess. The project collects local views and opinions from 10 out of the 10 regions in Mali via questionnaires and focus groups, and has established 36 Monitoring Groups for Peace and Security (MGPS) that each have three members: one representing women, one representing youth, and one representing local notabilities.
SIPRI researchers recently launched preliminary results from the study of security perceptions in Mali and SIPRI's partner organization CONASCIPAL created a video (in French) on their work in the region.