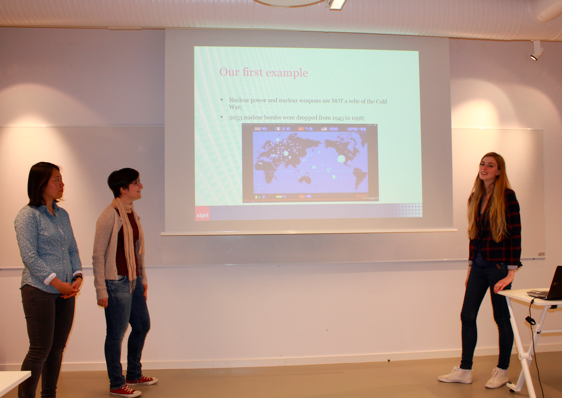 Image (left to right): SIPRI interns Duri Lim, Giulia Tamagni and Emily Bloom
On 14 May three SIPRI interns gave a presentation to students at Stockholm University about environmental security as part of Stockholm Earth Week.
The panel discussion began with an introduction by Giulia Tamagni, an intern in the Military Expenditure Programme, who discussed the effects of waging war on the environment, with a focus on nuclear warfare.
Duri Lim, a SIPRI–Korea Foundation intern with the Dual-use and Arms Trade Control and Arms Transfers and Arms Production programmes, addressed human sustainability and social concerns in relation to the environment.
Emily Bloom, an intern with SIPRI's Communications Department, summarized the discussion, suggesting that global resource management is not sustainable unless we take ecologically responsible approaches, since resource scarcity is a key source of conflicts.
Read the SIPRI Policy Paper, Africa and the Global Market in Natural Uranium: From Proliferation Risk to Non-proliferation Opportunity, by Ian Anthony and Lina Grip. 
Download the SIPRI Policy Brief, 'Natural resources and conflict: a new security challenge for the European Union', by Nicholas Garrett and Anna Piccinni.
Find out more about internships at SIPRI.