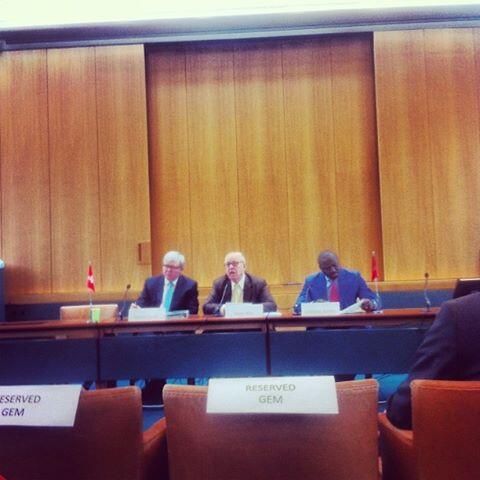 On 11 April SIPRI, in cooperation with the Swedish Ministry for Foreign Affairs (MFA) and the Swedish Institute of International Affairs (UI), held an event to discuss the Comprehensive Nuclear-Test-Ban Treaty (CTBT) and its wider applications. 
The CTBT prohibits all nuclear explosions anywhere as an effective measure of nuclear disarmament and non-proliferation. The treaty has been signed by 183 states and ratified by 162, but eight nuclear-capable states—China, the Democratic People's Republic of Korea (DPRK, North Korea), Egypt, India, Iran, Israel, Pakistan and the United States—still have to join in order for the CTBT to enter into force.
Panel speakers included Hans Blix, who served as Executive Chairman of the UN Monitoring, Verification and Inspection Commission for Iraq, Director General of the International Atomic Energy Agency (IAEA), and Minister for Foreign Affairs of Sweden; Kevin Rudd, former Australian Prime Minister and Foreign Minister; and Lassina Zerbo, Executive Secretary of the Comprehensive Nuclear-Test-Ban Treaty Organization (CTBTO).
Tariq Rauf, Director of SIPRI's Disarmament, Arms Control and Non-proliferation Programme, acted as a discussant. Anna Jardfelt, Director of the Swedish Institute for International Affairs, was the moderator.
Hans Blix discussed the long effort to abolish nuclear testing and the continuing efforts to achieve a world without nuclear weapons. Kevin Rudd noted that SIPRI is ranked among the leading research institutes in the world, and discussed the prospects of the ratification of the CTBT by China, highlighting the dynamics of the China–USA relationship in this regard. Finally, Lassina Zerbo highlighted the verification technologies the CTBTO uses to will ensure that no nuclear test goes undetected.  
Read Tariq Rauf's Expert Comment, 'From ending nuclear testing to detecting tsunamis and missing airplanes: the wider applications of the Nuclear-Test-Ban Treaty'.
Watch a video from the event uploaded by the CTBTO to its YouTube channel.