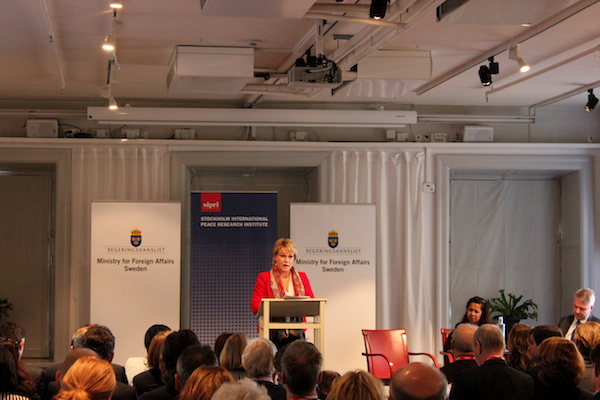 Image: Swedish International Development Cooperation Minister Hillevi Engström speaks at the 2014 Stockholm Forum on Security and Development
On 28 March SIPRI and the Swedish Ministry for Foreign Affairs (MFA) co-hosted a high-level forum—the 2014 Stockholm Forum on Security and Development—with the theme of 'Freedom from Violence'.
Over 200 participants attended the event, which SIPRI hopes will become an annual fixture on the security and development calendar in Stockholm.
The Forum leveraged international state-of-the-art research and policy findings from think tanks and academics in Sweden and abroad, and showcased research and policy advice produced by this community at the intersection between security, peace and socioeconomic development.
The conference sessions also drew on Scandinavian traditions of discussion, interaction, and collaborative knowledge creation.
On 27 March SIPRI also organized a pre-Forum event, featuring a number of parallel sessions.
A full report from the Forum will appear on the SIPRI website in due course. Read more about the event (in Swedish) on the website of the Swedish MFA.