STOCKHOLM INTERNATIONAL
PEACE RESEARCH INSTITUTE
SIPRI Update: February 2020
The independent resource on global peace and security
---
NEWS
SIPRI briefs UN Security Council on climate-related security risks in Somalia
Climate-related security risks are significantly transforming the way in which multilateral peacebuilding is taking place. This week SIPRI Director Dan Smith briefed the United Nations Security Council on the particular obstacles climate change is creating for the United Nations Assistance Mission in Somalia.
 

 
New video on regional perceptions of security in the Sahel
This SIPRI Reflection film highlights recent research conducted with partners in the Sahel region. This study was an effort to understand the perceptions of citizens, national actors and practitioners of the effect that the Malian crisis has had on other countries in the Sahel.
 

Read more | Watch Understanding regional perceptions of security in the Sahel

 
---
COMMENTARY
NATO in a climate of change
North Atlantic Treaty Organization (NATO) Secretary General Jens Stoltenberg has argued that although members disagree on climate change, it is crucial to stand together. To coincide with this year's Munich Security Conference, Rickard Söder, Research Assistant in SIPRI's Climate Change and Risk Programme, explores NATO's current position in the growing debate on climate change and related risks.
---
UPCOMING EVENTS
11–13 May 2020
2020 Stockholm Forum on Peace and Development
SIPRI is proud to announce that the 2020 Stockholm Forum on Peace and Development will focus on 'The Geopolitics of Peacebuilding'. 
The Stockholm Forum will consist of 'Focus Days' on 11–12 May and an 'Open Day' on 13 May. While Focus Days participation is by invitation only, the Open Day participation will be open for registration.  The Stockholm Forum is co-hosted by SIPRI and the Swedish Ministry for Foreign Affairs.
---
RECENT EVENTS
24 February 2020
SIPRI co-hosts launch event in Seoul on the impact of artificial intelligence on strategic stability and nuclear risk
SIPRI and the Embassy of Sweden in Seoul held a launch event for the report 'The Impact of Artificial Intelligence on Strategic Stability and Nuclear Risk—Volume II: East Asian Perspectives'. The report explores regional perspectives and trends related to advances in artificial intelligence on strategic stability and nuclear risk. 
20–21 February 2020
SIPRI co-hosts event on the 2020 review of the United Nations Peacebuilding Architecture
SIPRI and the Swedish Ministry for Foreign Affairs co-hosted a thematic and regional consultation on the 2020 review of the United Nations Peacebuilding Architecture. The discussions took stock of progress made by the United Nations (UN) in advancing core areas of the sustaining peace agenda and reflected on the UN reforms launched in 2019. 
14–16 February 2020
SIPRI at the 2020 Munich Security Conference
The theme of this year's Munich Security Conference was the phenomenon of 'Westlessness'. SIPRI hosted a roundtable discussion at the conference on the theme 'Artificial Intelligence and Strategic Stability', chaired by Dan Smith, SIPRI Director, and Dr Sibylle Bauer, Director of Studies Armament and Disarmament.
11–13 February 2020
SIPRI engages in the Horn of Africa, co-convenes two events in Addis Ababa
As part of its engagement in peace and security matters in Africa, SIPRI and partners convened a meeting of the Horn of Africa Climate Security Working Group. Furthermore, in cooperation with the Swedish Embassy in Addis Ababa, SIPRI then convened a discussion on African Union (AU) responses to climate-related security risks. 
---
JOB VACANCIES
Seven current openings
SIPRI is currently recruiting for seven positions:
Deputy Director
Administrative Assistant
Project Leader
Project Coordinator
Senior Researcher—EP 2022
Senior Researcher on Food and Security
Internship—EU Non-Proliferation and Disarmament
---
PUBLICATIONS
SIPRI Lecture 2019—Peace, Development, Human Rights and Gender Equality: The Story of My Life
The SIPRI Lecture is an annual event focusing on major themes in peace and security. The second SIPRI Lecture honoured HE Michelle Bachelet in the presence of His Majesty Carl XVI Gustaf and Her Majesty Queen Silvia. The lecture covered key challenges to human rights, the sources of those challenges and the ways in which it is possible to address them.
The World Food Programme's Contribution to Improving the Prospects for Peace in Iraq
This Working Paper contains detailed findings from field research in Iraq and is part of a wider knowledge partnership between SIPRI and the World Food Programme (WFP). In the light of its complex context, Iraq was selected along with three other countries (El Salvador, Kyrgyzstan and Mali) for pilot phase research. 
From Critical Engagement to Credible Commitments: A Renewed EU Strategy for the North Korean Proliferation Crisis
The North Korean nuclear and ballistic missile crisis is the most serious proliferation crisis the European Union (EU) and its member states face. It is essential that the EU and its member states implement a more proactive strategy in terms of political engagement, non-proliferation, the implementation of restrictive measures and engagement with North Korea.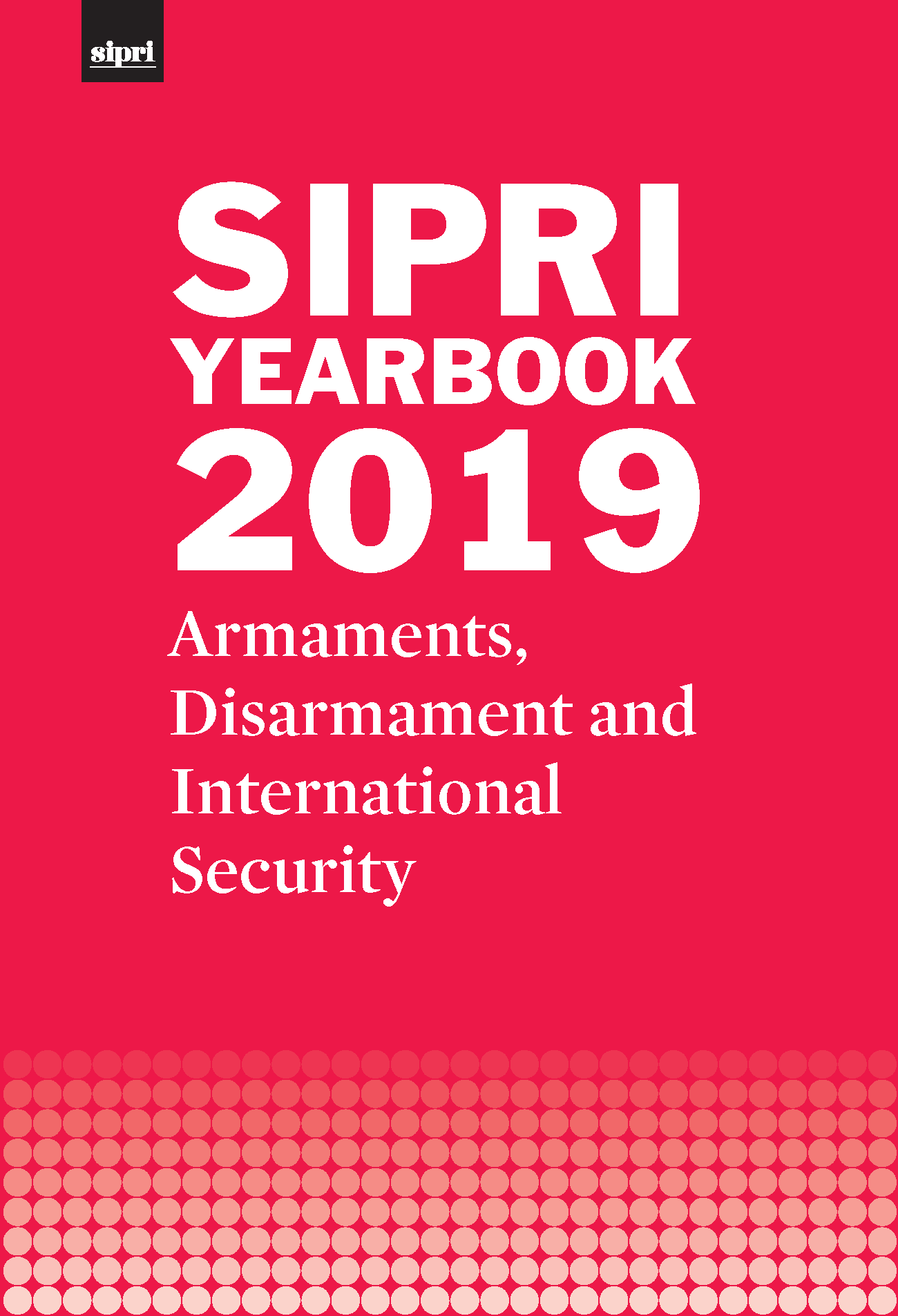 SIPRI Yearbook 2019
The 50th edition of the SIPRI Yearbook is a compendium of data and analysis in the areas of security and conflicts; military spending and armaments; and non-proliferation, arms control and disarmament. It covers developments during 2018, including:
the state of nuclear arms control;
transparency in military spending;
UN peacekeeping reform; and
allegations of chemical weapon use in Syria and the United Kingdom.
Browse the contents page | Read the summary (PDF) | Order SIPRI Yearbook 2019