STOCKHOLM INTERNATIONAL
PEACE RESEARCH INSTITUTE
SIPRI Update: January 2018
The independent resource on global peace and security
---
NEWS
SIPRI highlights of 2017
2017 saw a wave of uncertainty test structures of international peace and security—with tensions mounting on the Korean peninsula, the United States signalling its intent to withdraw from the Paris Agreement on climate change, a global treaty to ban nuclear weapons being agreed and the continuation of violent conflict throughout many regions of the world. Over the past 12 months, SIPRI remained committed to providing reliable data and independent analysis to engage researchers, policymakers, the media and the public on the path to sustainable peace.
 

Read more
SIPRI presence at the World Economic Forum
Dan Smith, SIPRI Director, attended the World Economic Forum in Davos (23–26 January) to present SIPRI's data and analysis on arms transfers and military expenditure. Smith presented interactive maps at the Global Situation Space on 'The Big Picture on Peace and Conflict' and was the keynote speaker for a panel entitled: 'Strategic Geography: Global Arms Markets', investigating what SIPRI's indicators reveal about the new balances of power and the changing character of conflict.
 

Read more

|

Watch 'Strategic Geography: Global Arms Markets'
Chinese-language SIPRI Yearbook 2016 now available online
SIPRI is proud to e-launch the Chinese-language translation of SIPRI Yearbook 2016. This translation—made possible with the generous support of the Swiss Federal Department of Defence, Civil Protection and Sport—is free to download as a PDF.
Read more
New SIPRI research on climate change, renewable energy and security in the borderlands of Ethiopia and Kenya
SIPRI has been awarded a three-year grant from the Swedish Research Council for Sustainable Development (FORMAS). The investigation will examine the changing livelihood conditions around the Omo-Turkana Basin—a lake basin which supports over five million people. Led by SIPRI's Dr Amiera Sawas, the investigation will involve researchers from Ethiopia, Kenya, Germany, Sweden and the United Kingdom.
 
 
 
 
 

How we contact you: Update your mailing preferences

SIPRI has several mailing lists in addition to the monthly update. Choose what you receive from us by updating your preferences with the link below or at the bottom of every mailing from SIPRI.
 

Update your preferences here
---
COMMENTARY
Why humanitarian assistance needs rigorous evaluation
At a time when it is likely that the number and scale of natural disasters will grow, and therefore the need for humanitarian assistance is likely to increase, Dr Anastasia Aladysheva makes the case for an impact evaluation methodology in the humanitarian sphere.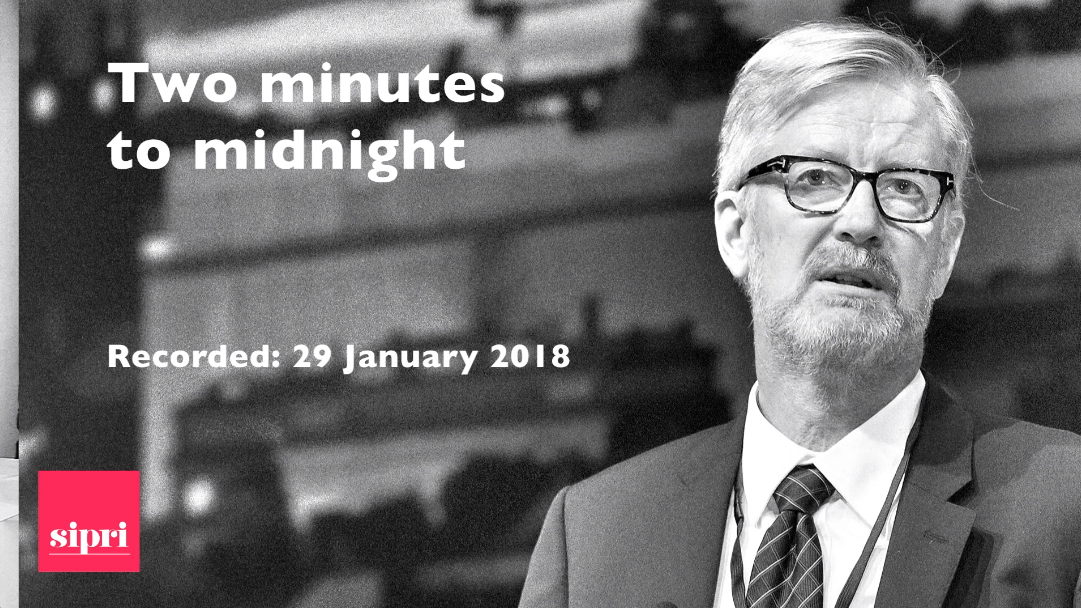 Peace Points: Two minutes to midnight
On 25 January, the Bulletin of the Atomic Scientists (BAS) pushed forward the symbolic Doomsday Clock by 30 seconds to just two minutes before midnight—the closest it has been to midnight since 1953. Dan Smith discusses this development.
Watch the Peace Points episode
---
UPCOMING EVENTS
2 February 2018
Hunger, food security, stability and peace
SIPRI and the World Food Programme will host a high-level conversation in Stockholm to investigate food security as a driver of conflict prevention and sustained peace. This will be an interactive discussion with the audience. It will be led by Dan Smith, SIPRI Director, and David Beasley, Executive Director of the United Nations World Food Programme (WFP). Register your attendance by 31 January with Alexandra Manolache, SIPRI Communications Officer (alexandra.manolache@sipri.org). This event will also be livestreamed.
Read more 
17 February 2018
SIPRI to host session at the Munich Security Conference
SIPRI will host a roundtable discussion at the 2018 Munich Security Conference (16–18 February). The Saturday lunchtime discussion will focus on the impact of emerging technology on arms control. This will involve input and engagement from Ambassador Jan Eliasson, Chair of the SIPRI Governing Board, Dan Smith, SIPRI Director, and Dr Sibylle Bauer, Director of Studies for Armament and Disarmament at SIPRI. For more information, please contact Stephanie Blenckner, Director of Communications (blenckner@sipri.org).
---
RECENT EVENTS
25 January 2018
SIPRI hosts Iceland's Foreign Minister
As part of his official visit to Sweden, SIPRI hosted His Excellency, Gudlaugur Thór Thórdarson, Minister for Foreign Affairs of Iceland, for an expert roundtable discussion. Dan Smith, SIPRI Director, presided over a stimulating discussion with the minister, focusing on security challenges in the North Atlantic. The minister stressed the importance of regional cooperation, citing the Arctic Council as one example.
Read more

|

Watch a SIPRI Spotlight interview with HE Gudlaugur Thór Thórdarson, Minister for Foreign Affairs, Iceland
18 December 2017
SIPRI workshop on cybersecurity
SIPRI's workshop, entitled 'Japan-Europe-USA: Integrating cybersecurity into critical infrastructure', hosted 12 leading academic, official, legal and technical cyber experts to discuss definitions of and threats to critical infrastructure, case studies of cyber intrusion attacks, as well as concrete ways forward on national, regional and international cooperation.
Read more
---
PUBLICATIONS
The SIPRI Top 100 arms‑producing and military services companies, 2016
Arms sales of the world's 100 largest arms-producing and military services companies (the SIPRI Top 100) totalled $374.8 billion in 2016, which represents a 1.9 per cent increase compared with 2015. This Fact Sheet lists the SIPRI Top 100 for 2016 from the updated SIPRI Arms Industry Database and describes trends in international arms sales that are revealed by the new data.
Read the publication
Security and economy on the Belt and Road: Three country case studies
China's Belt and Road Initiative (BRI) is the result of a convergence of multiple Chinese domestic drivers and external developments. It holds significant potential to contribute to greater connectivity and stability in participating states, yet there is a need to include a wider spectrum of local and international stakeholders in order to address concerns and mitigate backlashes. As shown in this SIPRI Insights Paper, projects on the scale of those implemented within the BRI inevitably become part of existing local and cross-border security dynamics. They may also expose, and sometimes exacerbate, local institutional weaknesses. Examples of these issues are revealed through the case studies of Belarus, Myanmar and Uzbekistan.
Read the publication
Export controls, human security and cyber-surveillance technology: Examining the proposed changes to the EU Dual-use Regulation
This paper seeks to inform the discussion surrounding the European Commission's proposed 'recast' of the EU Dual-use Regulation—the main regulatory instrument for EU member states' controls on the trade in dual-use items. The proposal, which is currently being examined by the European Parliament and Council of the European Union, is part of a review of the Regulation which was launched in 2011.
Read the publication
IGOs and global climate security challenges: Implications for academic research and policymaking
Climate change poses a new class of security challenges that is confronting societies worldwide. Increased risk of famine, destroyed infrastructure, houses and shelter, and violent conflict might all be consequences of climate change through gradual changes to ecosystems and extreme weather events. As a way to mitigate these challenges, states have delegated increased power to intergovernmental organizations (IGOs). This Fact Sheet summarizes the key findings of the first systematic review of research on IGOs and climate security, and the implications of existing studies for the theory and practice of global climate security governance.
Read the publication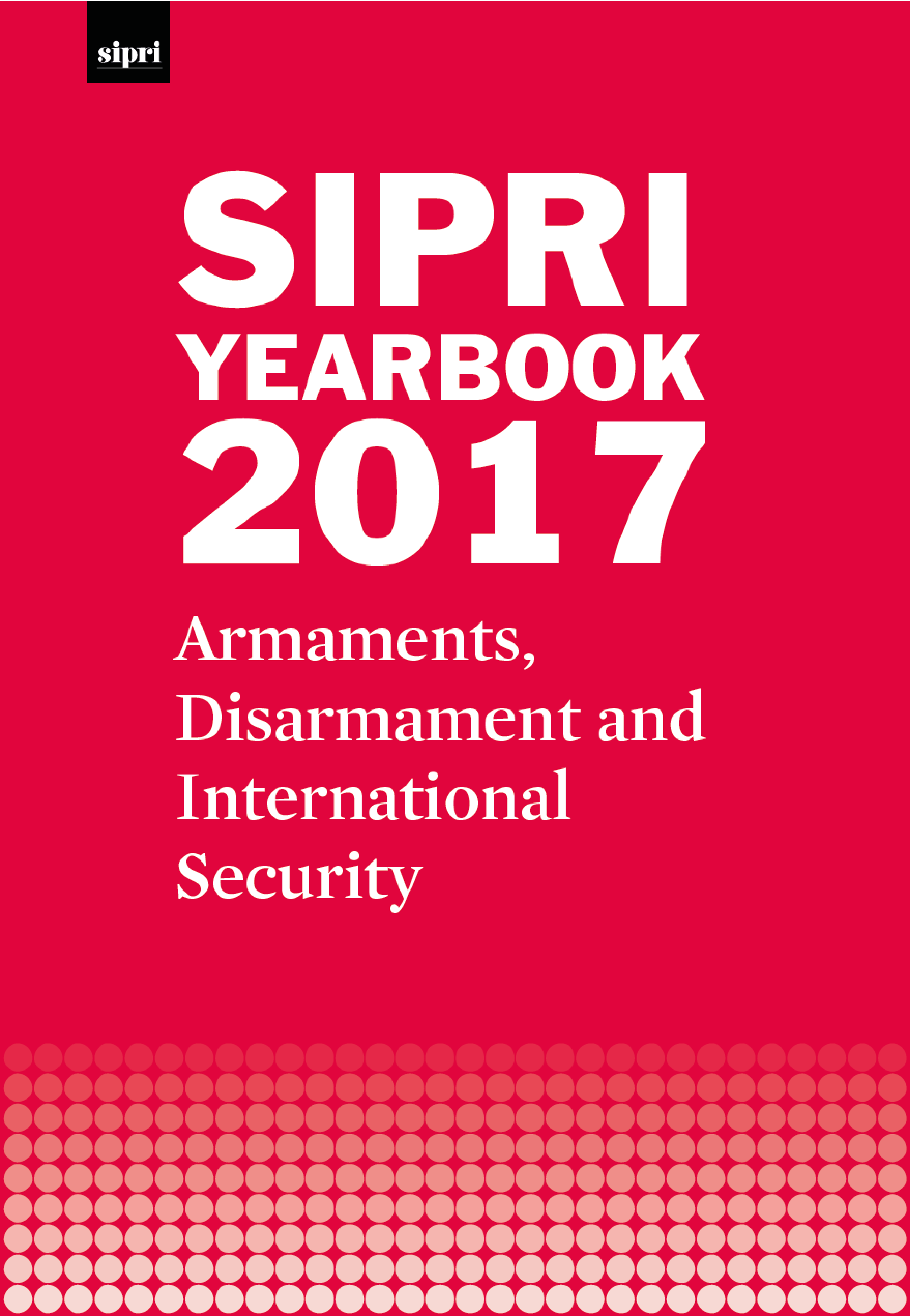 SIPRI Yearbook 2017
The 48th edition of the SIPRI Yearbook is a compendium of data and analysis in the areas of security and conflicts; military spending and armaments; and non-proliferation, arms control and disarmament. It covers developments during 2016, including:
aspects of the conflicts in the Middle East and North Africa;
the peace agreement in Colombia;
forced displacement in fragile contexts; and
the sustaining peace framework of the United Nations.
Browse the contents page | Read the summary (pdf)