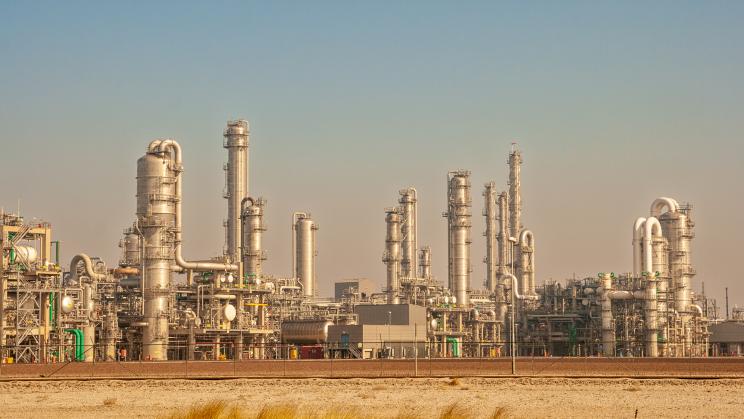 9 November 2022, 12:45–14:00 CET
The Russian invasion of Ukraine has shaken the foundations of European security, but its effects have reverberated beyond Europe. In the Middle East and North Africa (MENA), most states have refrained from an explicit condemnation of Russia's aggression and have not joined Western efforts to isolate Russia through economic sanctions. The response of MENA countries to the war in Ukraine is, arguably, symptomatic of shifts in the global order, particularly growing trends of multipolarity as well as the erosion of multilateralism and international norms.   
The war has caused energy disruptions at a time of heightened economic challenges across the globe, as European countries seek to break dependence on and find alternatives to Russian gas. This propels energy rich states to prominence and offers them a critical role in influencing regional and international geopolitical and security relationships.   
The war has also highlighted the heavy dependence of MENA countries on grain imports from Ukraine and Russia. Risks of food shortages and skyrocketing prices in several MENA countries heighten the likelihood of unrest. And that could have serious repercussions for stability and security in an already fragile region.  
This session will discuss and reflect on the impact of the war in Ukraine on the MENA region. 
 

Moderator
Dr Ahmed Morsy

Dr Ahmed Morsy is a Senior Researcher with the Middle East and North Africa Programme at SIPRI, focusing on state-society relations and post-conflict dynamics in the MENA region. His research interests include foreign and security policies in the Middle East as well as political reform in the Arab world.

Before joining SIPRI, he was Senior Analyst at Eurasia Group providing research, analysis and risk assessments focusing on North African political and socio-economic issues. Ahmed was the Manager of the MENA program at the American Political Science Association (APSA), and he is a co-founder of the Arab Political Science Network (APSN). He received his PhD in International Relations from the University of St Andrews, focusing on Egypt's policy towards Iran. His work has been published by the Carnegie Endowment for International Peace, the Middle East Institute, Atlantic Council and the Tahrir Institute, among others.
Discussants
Cinzia Bianco

Cinzia Bianco is a visiting fellow at the European Council on Foreign Relations, based in Berlin, where she is working on political, security and economic developments in the Arabian Peninsula and Gulf region and relations with Europe. Additionally, she is a senior analyst at Gulf State Analytics. Previously, Bianco was a research fellow for the European Commission's project on EU-GCC relations 'Sharaka' between 2013 and 2014. 

She holds an MA degree in Middle East and Mediterranean Studies from King's College London and a PhD in Middle East Politics from the University of Exeter in the United Kingdom, where she worked on threat perceptions in the countries of the Gulf Cooperation Council (GCC) after the 2011 Arab uprisings. 
Intissar Fakir

Intissar Fakir is a senior fellow and director of MEI's North Africa and Sahel program. She is an expert on North Africa, the Sahel, and key regional thematic issues including governance, social change, migration, and security. She has written extensively on North Africa's evolving politics including Islamist electoral politics in post-2011 Morocco and Tunisia, the Western Sahara issue, foreign policy priorities in Morocco and the broader region, and the impact of COVID-19 on regional political stability. Her research has also included political transitions, mobilization trends, energy, and social change in Morocco, Mauritania, Algeria, and Tunisia.

Prior to joining MEI, Intissar was a fellow at the Carnegie Endowment for International Peace where she was also the editor-in-chief of the bilanguage (English and Arabic) Middle East platform Sada. She has also implemented programs at various NGOs in support of political, economic and social reform in the North Africa and the Middle East. She has consulted and advised governments and corporate entities in the US and Europe on Maghreb developments. 

She is the author of numerous reports, articles, and book chapters on the region and has been published in foreign policy journals and newspapers in English and Arabic. Intissar is fluent in English, Arabic, and French. Originally from Morocco, she holds an M.A. from the Elliott School at George Washington University. 
Marwan Muasher

Marwan Muasher is vice president for studies at Carnegie, where he oversees research in Washington and Beirut on the Middle East. Muasher served as foreign minister (2002–2004) and deputy prime minister (2004–2005) of Jordan, and his career has spanned the areas of diplomacy, development, civil society, and communications.

Muasher began his career as a journalist for the Jordan Times. He then served at the Ministry of Planning, at the prime minister's office as press adviser, and as director of the Jordan Information Bureau in Washington.

In 1995, Muasher opened Jordan's first embassy in Israel, and in 1996 he became minister of information and the government spokesperson. From 1997 to 2002, he served in Washington again as ambassador, negotiating the first free-trade agreement between the United States and an Arab nation. He then returned to Jordan to serve as foreign minister, where he played a central role in developing the Arab Peace Initiative and the Middle East roadmap.

He is the author of The Arab Center: The Promise of Moderation (Yale University Press, 2008) and The Second Arab Awakening and the Battle for Pluralism (Yale University Press, 2014).