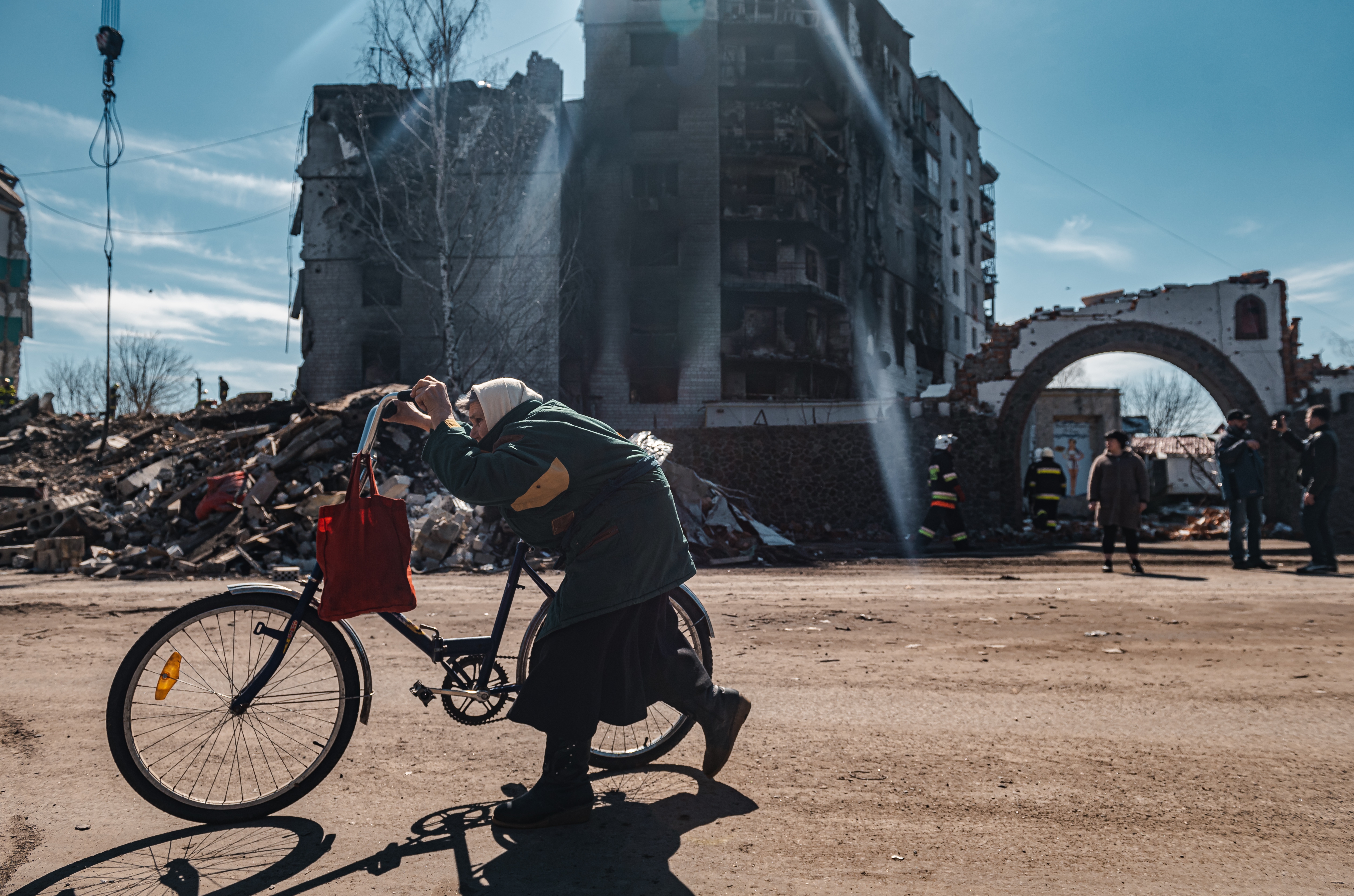 11 November 2022, 13:15–14:30 CET 
International fact-finding missions and investigations have identified clear patterns of violation of international humanitarian law and international human rights law in Ukraine since the Russian invasion of 24 February 2022.
The violations are wide-ranging, including the conduct of fighting as well as treatment of prisoners of war, forced abductions, torture, restriction of civil and human rights, and denial of essential services.
Reports by international bodies have drawn attention to the particularly heavy toll the war has taken on women as a group, documenting cases of gender-based violence including domestic violence. Women make up the majority of displaced persons and refugees, which creates additional vulnerabilities with the risk of exploitation and trafficking. 
There is a legal and political obligation to investigate war crimes, and improving the mechanisms to hold perpetrators to account may also play a role in preventing future violations. The United Nations, the International Court of Justice, the Organization for Security and Co-operation in Europe (OSCE), the European Court of Human Rights, the International Criminal Court and Ukrainian national courts have all been active in holding criminals accountable. 
Moderator
Ian Anthony

Dr Ian Anthony is Director of SIPRI's European Security Programme. He has published numerous books on issues related to arms control, disarmament and export control.
Discussants
Albina Basysta

International lawyer. Lecturer at the Department of International Law of the Taras Shevchenko National University of Kyiv. Is also a Legal adviser to a member of the Ukrainian Parliament since 2019. Currently participates in the process of developing draft legislation on a legal status of victims of wartime sexual violence.
 

Ingrid Elliott

Dr. Ingrid Elliott MBE is a criminal justice expert with over 24 years of experience, including investigating and prosecuting international crimes at the Bosnian State Court and the UN ICTY.  She is a member of the UK Preventing Sexual Violence in Conflict (PSVI) Team of Experts, deploying over 30 times since 2013.  She has worked on CRSV investigation and response for Ukraine, Syria, Iraq, Libya, and Myanmar/ Bangladesh, as well as building investigation and prosecution capacities with national justice actors across East Africa. She works on tackling CRSV stigma within communities and within justice processes. She is the primary drafter of The Murad Code. She is a co-founding director of Synergy for Justice.
Ebony Wade

Ebony Wade is a Legal Adviser at Civil Rights Defenders, a Stockholm-based international human rights organization. Her current work focuses on strengthening accountability efforts for international crimes and supporting legal projects in South Sudan and Ukraine.

Previously, Ebony worked as a trial attorney in Washington, DC in the areas of domestic violence and children's rights, and at the American Bar Association Rule of Law Initiative on international technical legal assistance projects promoting access to justice and the rule of law. She holds a JD from American University Washington College of Law and a BA from the University of Chicago.
Fred Tanner

Dr Fred Tanner (Ambassador, ret.) is a Visiting Professor at the Graduate Institute, Geneva and a Research Fellow at its Centre on Conflict, Development & Peacebuilding (CCDP). He is also an Associate Fellow at the GCSP and serves on the Advisory Boards of the Friedrich Ebert Stiftung Regional Office for Cooperation and Peace in Europe (FES ROCPE), and the International Institute for Peace (IIP), Vienna.

Fred previously worked at the Swiss MFA  and for seven years as Director of the Geneva Centre for Security Policy (GCSP). He served on the United Nations Secretary General's Advisory Board on Disarmament Matters, the High-level Panel on Early Warning and Rapid Reaction of the Organisation Internationale de la Francophonie (OIF), and was a member of the Academic Advisory Board of the NATO Defence College (NDC).  
Fred holds a PhD and a Master's Degree from the Fletcher School of Law and Diplomacy at Tufts University, and a Bachelor's degree from the Graduate Institute of International and Development Studies (HEID), Geneva. He holds the rank of Major (ret.) in the Swiss Army. 
 

Nathaniel Raymond

Nathaniel A. Raymond is Executive Director of the Yale School of Public Health's (YSPH) Humanitarian Research Lab (HRL). Yale HRL is currently a lead organization participating in the US Department of State's Conflict Observatory documenting alleged crimes against humanity in Ukraine through open-source information and analysis of commercial satellite imagery. He is also a Lecturer in Department of the Epidemiology of Microbial Diseases (EMD) at YSPH and was formally a Lecturer of Global Affairs at the Jackson Institute for Global Affairs. His research interests focus on the health implications of forced displacement; methodologies for the assessment of large-scale disasters, including pandemics; and the human rights and human security implications of information communication technologies (ICTs) for vulnerable populations, particularly in the context of armed conflict.