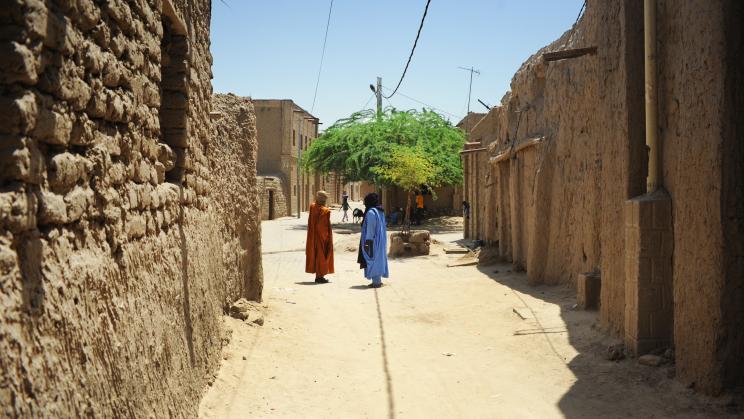 9 November 2022, 16:15–17:30 CET
Critical discourses are spreading across West Africa and the Sahel region. These range from a strong disavowal of former colonial powers to growing discontent about the lack of results from multilateral engagement in the United Nations or European countries, especially in the context of the fight against terrorism. As critical voices gained power over the last decade, they also changed form. Criticism is expressed in public demonstrations and online, where rumours based on videos and images are spread. Disinformation—as seen in the war in Ukraine—has become a tool that external actors, pre-eminently Russia, apply in other conflict zones. This leads to accusations in the media, political tensions and even sanctions between African countries and their international counterparts. 
The deterioration of the security situation and the recent coup d'état in central Sahel reflect these tensions and expose the weaknesses of the governments—civilian or military—and of their traditional partners in the fight against terrorism. In this war, some governments are looking for new partnerships and security shifts are taking place within African security environments. Non-Western powers, such as China or Turkey, have brought about these by overhauling military cooperation agreements, arms transfers and technological support. China has participated in multilateral security initiatives through the Blue Helmet deployments across the continent, which also signifies broader involvement and greater visibility at the diplomatic level. Moreover, private security companies are on the increase in the Central African Republic, Libya, Mali and Sudan. As influences and actors diversify, it casts doubt over bilateral and multilateral security and peace operations. It also raises the question of how international actors can respond diplomatically and politically to these changing patterns.  
This session will discuss these changing patterns: disinformation as a new global tool in different battlefields and contexts, the consequences for international strategies in the war against terrorism and the power shifts in the Sahel.
Moderators
Dr Virginie Baudais

Dr Virginie Baudais (France) is a Senior Researcher and Director of SIPRI's Sahel and West Africa Programme. Prior to joining SIPRI in August 2019, she worked for two United Nations peacekeeping operations, in Côte d'Ivoire and Mali, as a Political Officer. Prior to her experience with the UN, she worked as a Teaching Assistant at Toulouse 1 Capitole University. Virginie Baudais graduated from Sciences Po Toulouse and holds a PhD in Political Science from Toulouse 1 Capitole University. Her research interests focus on the Sahel, peacebuilding, security, governance and state reform.
Idayat Hassan

Idayat Hassan is the Director of the Centre for Democracy and Development (CDD), an Abuja-based policy think tank focusing on deepening democracy and development in West Africa. 

She is a lawyer and has held fellowships in universities across Europe and the United States. Her interests span democracy, peace and security, transitional justice, and information and communications technology for development in West Africa. As Director of CDD West Africa, she has strengthened its position as a leader in technology related research through a portfolio of projects. This includes, but is not limited to, analyses of the nexus between social media platforms, election processes, and electoral outcomes, specific studies exploring the role played by individual platforms – for example WhatsApp – during voting periods, and an assessment of the use of personal data in political campaigning in Nigeria. Under her leadership, CDD West Africa move from being unranked in 2013, to 11th out of 94 think-tanks in sub-Saharan Africa by 2020 according to a University of Pennsylvania index. 
Discussants
Karine Dyskiewicz

Karine Dyskiewicz is Fondation Hirondelle's Representative in Niger since November 2021. She oversees the implementation of the Studio Kalangou project. She previously worked as Country Director for the German NGO ASB Niger, based in Niamey, as Project Coordinator for Médecins du Monde-France and for the French Red Cross in Niger. She also worked as a Consultant and Project Manager for GIZ and WFP in Niger. She has been living in Niger for 20 years.
Dr Lassane Ouedraogo

Dr. Lassane Ouedraogo is a visiting Research Fellow at the Center for Democracy and Development in Abuja, Nigeria. He is also an affiliated lecturer at Université Joseph Ki-Zerbo de Ouagadougou in Burkina Faso. He holds a PhD in media studies,  an M.A in African studies from Ohio, and he is a Fulbright alumnus.  Dr. Ouedraogo research interests include Islam in Africa and contemporary African media and politics. He had written academic papers and policy reports on fake news in the Sahel region including in Mali, Burkina Faso, and Niger.  He is a former AIAC inaugural fellow from The New School where he researched and wrote about youth social movements on university campuses in West Africa. Dr. Ouedraogo is also an analyst of political governance, media, and conflict in the Sahelian. In that capacity he has regularly contributed to several news media outlets including SABC News from South Africa, News Central TV from Nigeria, and Al-Jazeera. 
Joseph Siegle

Dr. Joseph Siegle is the Director of Research at the Africa Center for Strategic Studies based at the National Defense University in Washington, D.C. His expertise includes strategic competition, the stabilization of fragile states, democratic accountability, and the political economy of democratic transitions. Dr. Siegle's writings have been widely published, including over a dozen articles on the geostrategic, security, informational, and governance objectives and implications of Russia's expanding influence in Africa. 

Dr. Siegle draws on experience as a scholar, policy analyst, and practitioner in which he has served in various field capacities throughout Africa, Asia, and the Balkans.
| | |
| --- | --- |
|   | EEAS StratCom Division Representative |