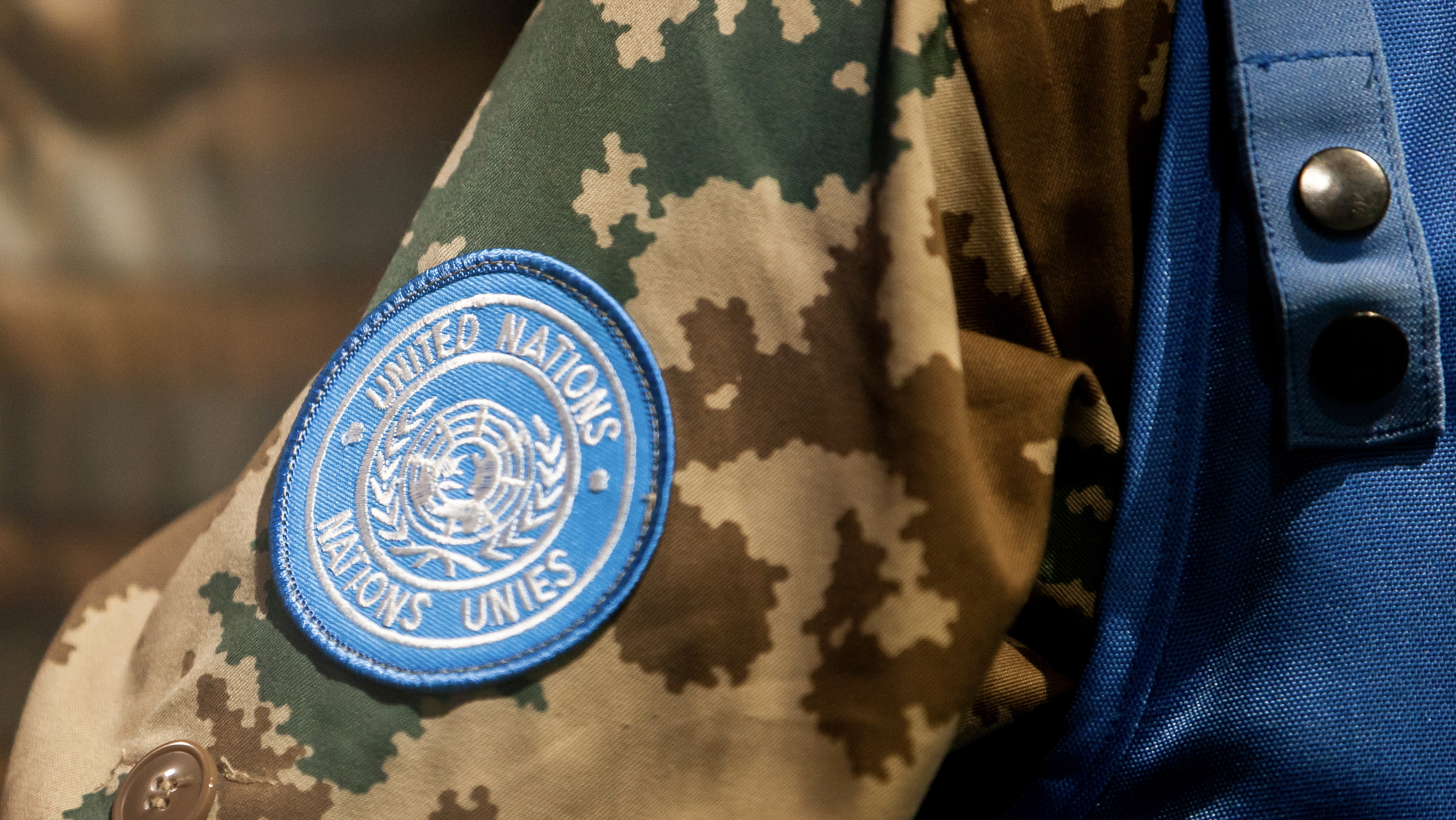 11 November 2021, 15:30–16:45 CET
This session is organized in cooperation with the United Nations Department of Peace Operations (UNDPO). 
Please note that participation to this session is by invitation only.
For more than 20 years, protecting civilians from threats of physical violence has been a priority objective of United Nations peacekeeping. The UN Security Council has provided peacekeeping missions with increasingly comprehensive and robust protection of civilians (POC) mandates, and in many cases POC has become the measure by which the world judges the effectiveness of UN peacekeeping.
Such UN peacekeeping operations frequently operate alongside operations by regional and subregional organizations, alliances and coalitions. At their best, parallel operations are based on complementarity and comparative advantage. At their worst, they can result in competition, conflicting strategic goals, partiality and operational confusion. As a result of changed operational environments, and shifting global and regional geopolitics, peacekeeping and peacemaking is likely to remain a crowded field: one in which a variety of actors may operate alongside each other, with consequences for how the UN conducts future operations and particularly how UN peacekeeping operations protect civilians.
The session will address the following questions:
What does this crowded field in mission environments look like and how does it impact protection of civilians?
How is the delivery of UN Peacekeeping POC mandates impacted by peacekeeping support to parallel operations? Does this for example affect a UN peacekeeping mission's perceived impartiality?
How can UN peacekeeping operations and parallel missions best serve the interests of the civilian population at risk from the violence of armed conflict?
Moderator
Dr Jaïr van der Lijn

Dr Jaïr van der Lijn is a Senior Researcher and Director of the SIPRI Peace Operations and Conflict Management Programme. Jair joined SIPRI in 2013. He is also affiliated with the Radboud University Nijmegen in the Netherlands. His research focuses primarily on: current trends and future developments in multilateral peace operations (eg. AU, EU, NATO, UN); their handling of complex environments; their evaluation; and, their relationship with local actors in host nations. As part of the New Geopolitics of Peace Operations initiative he focused on the role of rising powers in the future of peace operations, the future of peace operations in Africa and the role of peace operations in dealing with non-traditional challenges, such as climate change, crime, migration, piracy and terrorism. He has published widely and conducted extensive field research in Afghanistan, Bosnia-Herzegovina, Cambodia, El Salvador, Mali, Mozambique, Rwanda, South Sudan and Sudan. He also has an extensive background in future foresight and scenario planning.
Discussants
Alison Giffen

Alison Giffen is currently serving as the Center for Civilian in Conflict's (CIVIC's) interim Senior Director of Programs and previously served as Director of CIVIC's United Nations portfolio. Prior to joining CIVIC, she served as the Senior Advisor for UN Peacekeeping with the US State Department's International Organizations Affairs Bureau where she contributed to the drafting of the 2015 Presidential Policy Memorandum on U.S. Support to UN Peace Operations and helped to facilitate its implementation across the US government. From 2009-15, she was a senior associate at the Stimson Center, where she co-directed the Future of Peace Operations Program and founded the Protecting Civilians in Conflict project. While at Stimson, she traveled often to undertake independent and UN-commissioned reviews of UN peace operations. Alison has also worked for Oxfam GB in Sudan, monitoring peacekeeping operations and coordinating NGO policy and advocacy initiatives; worked at the Open Society Institute to promote constructive US global engagement in multilateral forums; and worked on human rights and international humanitarian law in Sierra Leone and Colombia. Alison earned a Master's degree in International Affairs from Columbia University's School of International and Public Affairs, and a Bachelor's degree in diplomacy and world affairs from Occidental College.
Lieutenant General Dr Dennis Gyllensporre

Lieutenant General Dr. Dennis Gyllensporre (Swedish Armed Forces) served as the Force Commander for the United Nations Multidimensional Integrated Stabilization Mission in Mali (MINUSMA) between October 2018 and October 2021. He came from a four-year appointment as the Chief of Defence Staff and Head of Special Forces of the Swedish Armed Forces. He was promoted to Lieutenant General in 2014. LTG Gyllensporre has multifaceted credentials in international cooperation as well as an extensive track record in interaction with political entities. This experience spans from operations at tactical level to scientific work in renowned journals. LTG Gyllensporre has served as staff officer in various positions including tours abroad in Bosnia-Herzegovina and Sudan as well as service at the MoD as military advisor in international crisis management. He has served as chief of staff at the Swedish Joint Operations Command and later as head of Doctrine and Concepts Branch at the European Union Military Staff. In 2008 he was deployed to Afghanistan as the Chief of Staff in Regional Command North of the NATO-led operation (ISAF). Subsequently, Gyllensporre has held several positions in the Swedish Armed Forces Headquarters including Chief of Staff of the Supreme Commanders staff and Head of Policy and Plans department. He has studied at several military institutions and holds a number of academic degrees. He is an author of several books and academic articles on military strategy and security studies, including UN Peacekeeping.
Brigadier General Nuno Lemos Pires

Mission Force Commander of the European Union Training Mission in Mozambique, Army Brigadier General / Special Operations, Nuno Lemos Pires, was born in Lisbon, Portugal. He finished the Military Academy (AM) in 1988 and has over 30 years of service in command and direction, instruction and teaching functions. Throughout his career he integrated various institutions, national and international, having participated in several missions abroad, in Mozambique, Angola, Pakistan and Afghanistan. In addition to his military career, BGEN Lemos Pires has a vast academic career, with a PhD in History, Defence and International Relations from ISCTE-IUL (with AM), a Master's Degree in Military Sciences from AM, a Post-Graduate Degree in Military History from Lusíada University and a Bachelor's Degree in Human Resources Management from ISMAG. He is a frequent collaborator in several Universities and Institutes, both national and international, and a regular guest in colloquiums and conferences on his themes of interest. He has published 11 books and more than 120 chapters or articles in books and various publications on subjects related to Military History, International Relations, Security and Defence, Strategy and Terrorism. Throughout his military and academic career BGEN Lemos Pires has been awarded several commendations, decorations and prizes, including four Distinguished Service Medals (Gold and Silver) and the National Defence Prize 2014 for his work: "Wellington, Spínola and Petraeus: The Holistic Command of War".
Maman Sidikou

Maman Sambo Sidikou is currently the High Representative of the African Union (AU) for Mali and the Sahel. From 2018 to 2021 he served as Executive Secretary of the Group of Five for the Sahel, coordinating the joint response to the risks of terrorism, organized crime and climate change. His 35 years of service include high level positions within Nigerien diplomacy, the United Nations and the AU. From 2011 to 2014 he served as Niger's ambassador to the United States and he later served as Special Representative of the President of the Commission in Somalia and Chief of the AU mission in the country (AMISOM) between 2014 and 2015. He oversaw UN peacekeeping efforts in the Democratic Republic of the Congo from 2015 to 2018.
Souleymane Thioune

Mr Souleymane Thioune is currently the Acting Chief of Staff for the United Nations Multidimensional Integrated Stabilization Mission in the Central African Republic (MINUSCA), where he has also been serving as Principal Field Coordinator and Deputy Chief of Staff, since August 2017. During his tenure as Field Coordinator, Mr Thioune was in the heart of the PoC and has been experienced both successes, gaps as well as a failure of the Mission and/or the UN in that regard. He has been constantly working in preventing and reacting on PoC issues and is he continues to be the chairman of the Operations Coordination Team, a structure at the Sections Chiefs levels handling crisis and cross-cutting critical operational matters. Mr Thioune has extensive professional experience covering more than a decade in the UN and two decades as a Senior Officer in the military, in his previous national employment. During his career in the UN, prior to taking up her current post, from 2009 to 2017, he has focused on responding to Political and Operational issues as a Senior Military Liaison in the IOT in NY, to situational awareness and complex emergencies/crises as Chief of Joint Operations Center in MINUSMA - Mali and in MONUSCO-CAR, and Deputy of the UN Operations and Crisis Center (UNOCC ) in NY.
| | |
| --- | --- |
| | The Department of Peace Operations (DPO) is dedicated to assisting the Member States and the Secretary-General in their efforts to maintain international peace and security. DPO provides political and executive direction to UN peacekeeping operations around the world and maintains contact with the Security Council, troop and financial contributors, and parties to the conflict in the implementation of Security Council mandates. Peacekeeping is political and its ultimate success depends on active and sustainable political processes or the real prospect of a peace process. The Department works to integrate the efforts of UN, governmental and non-governmental entities in the context of peacekeeping operations. DPO also provides guidance and support on military, police, mine action and other relevant issues to other UN political and peacebuilding missions. |
For additional information on this session, please contact the SSC 2021 Team at sthlmseccon@sipri.org.