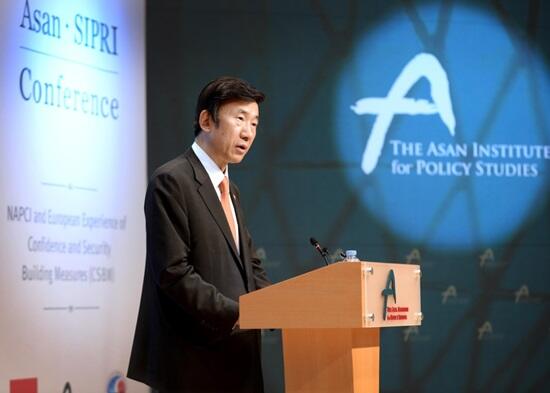 Image: South Korean Foreign Minister Yun Byung-se delivers the keynote speech at the Asan–SIPRI conference in Seoul.
Credit: Twitter/@MOFAkr_eng

On 9 July SIPRI and the Asan Institute for Policy Studies co-hosted a conference in Seoul on the Northeast Asia Peace and Cooperation Initiative (NAPCI) entitled NAPCI and the European Experience of Confidence and Security-Building Measures.
The conference, sponsored by the Ministry of Foreign Affairs of the Republic of Korea, brought together more than 100 participants from Korea, China, Japan and Singapore, as well as participants from Europe and North America.
Conference speakers included Yun Byung-se (Korean Minister of Foreign Affairs), Douglas Paal (Vice President for Studies at the Carnegie Endowment for International Peace), Jin Canrong (Professor at Renmin University of China), Morimoto Satoshi (former Japanese Defense Minister), and SIPRI Director Ian Anthony.

Read Dr Ian Anthony's remarks at the opening session of the conference.